Getting Started with iPads in the Classroom Using Explain Everything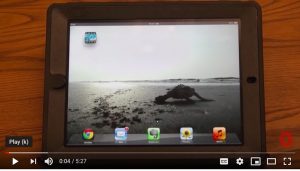 As a new school year approaches you might be looking for strategies to integrate technology into your classroom. Maybe you recently purchased an iPad or your school has a set of them. Not sure where to get started? The application Explain Everything is an easy way.
How it Works
This app is easy to use for both teachers and students. I have used this app with students as young as grade 1. Essentially the app allows you to record your voice, buy add pictures, help move arrows and point to important objects and draw your own images. The pictures you add can be snapshots you have made or a photo your students have taken with the on-board iPad camera.  All you do is upload it from your camera roll. Not to mention sharing their work with others is very easy. You can play it directly off the iPad, plug the iPad into a projector or upload the student work sample into a different format including a .mov file which will play on a non-Apple device using Quicktime.
Developing Oral Language Skills and Using Feedback
 I mentioned that I used this app with students in grade 1. The reason I found this app so helpful for young students was because they have excellent ideas yet their writing skills are still developing therefore a lot of my assessment is done orally. Using the Explain Everything app it makes oral language assessment much easier. No longer do you have to assess each child individually. You can have multiple students working on multiple iPads and at the end of the period you can collect their work, download it and review it. Moreover, after the students become proficient with the app they can review what they have recorded and re-record to make improvements. I encourage and model this process for students because it encourages them to self- assess and use feedback in a meaningful way to improve their work.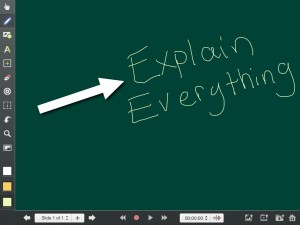 Using Explain Everything in Media Literacy
In my Media Literacy program I use the Explain Everything app with visual texts. I might find a print ad or photograph, upload it to the gallery and then ask students to respond orally to a focused question from the media triangle (https://aml.ca/media-literacy-triangle/). With the app students can use the arrows or pens to point out important details in the ad such as logo, colours or other important details. Using the app in this way can help you establish overall expectation 1, "demonstrate an understanding of a variety of media texts." This app is great for students in older grades who may struggle with writing or shut down when they are asked to express themselves through writing. You can reach all students and get rich assessment samples through the use of this app. Students can also create their own projects using the app, which meets the overall expiation three that states, "students will create a variety of media texts." This year I asked my grade two students to bring in an artifact that represents an important tradition and celebration. We took pictures of their artifacts and the students recorded their explanation as to how their artifact is significant to them. We then shared this project at our winter assembly.
Final Thoughts
This past year was my first time using iPads in the classroom. I was overwhelmed at first by all the iPad applications for education. When a colleague introduced me to Explain Everything I immediately gravitated toward it because it was easy to use for my students and myself. The app was also very cheap (around $1.99) and could be used for students in many grades. If you are looking to get started with iPads this year, try Explain Everything.
Please  feel free to leave a comment below and share how you used this app.
(These ideas can be adapted to Elementary and Secondary classrooms. – ed.)