10 Principles of Reconciliation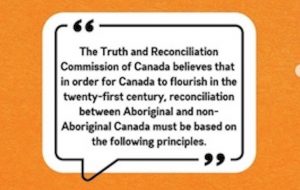 AML recognizes September 30, Canada's first National Day for Truth and Reconciliation. "The day honours the lost children and Survivors of residential schools, their families and communities. Public commemoration of the tragic and painful history and ongoing impacts of residential schools is a vital component of the reconciliation process." (Government of Canada – National Day for Truth and Reconciliation)
We also recognize September 30th as Orange Shirt Day in Canada. Established in 2013, Orange Shirt Day recognizes the legacy of the Residential Schools System for First Nations, Métis and Inuit families and communities.
The day honours the lost children and Survivors of residential schools, their families and communities. Public commemoration of the tragic and painful history and ongoing impacts of residential schools is a vital component of the reconciliation process.
Director Nina Silver (@mediateachmaven) has re-posted above the 10 Principles of Reconciliation from The Truth and Reconciliation Commission of Canada, on her Instagram site. It was originally posted by Megan Tipler (@tiplerteaches). These are part of the Truth and Reconciliation Commission of Canada's document titled "What We Learned: Principles of Reconciliation".
From the Orange Shirt Day organization website:
"The annual Orange Shirt Day on September 30th opens the door to global conversation on all aspects of Residential Schools. It is an opportunity to create meaningful discussion about the effects of Residential Schools and the legacy they have left behind.  A discussion all Canadians can tune into and create bridges with each other for reconciliation.  A day for survivors to be reaffirmed that they matter, and so do those that have been affected.  Every Child Matters, even if they are an adult, from now on.
The date was chosen because it is the time of year in which children were taken from their homes to residential schools, and because it is an opportunity to set the stage for anti-racism and anti-bullying policies for the coming school year. It is an opportunity for First Nations, local governments, schools and communities to come together in the spirit of reconciliation and hope for generations of children to come."
Indigenous studies curriculum based on the above is relevant at both Elementary and Secondary levels. (ed.)