Anatomy of a Thumbnail and the Impact of AI
Anatomy of a Thumbnail and the Impact of AI = an original article by Diana Maliszewski for AML.ca
Inspiration can often come in the middle of the night. It's why I keep a pad of paper and pens on my bedside table. A couple of days ago, I had an idea for a potential new category of blog post for AML. I scribbled it in the dark and turned to my adult children in the morning for help making it a reality.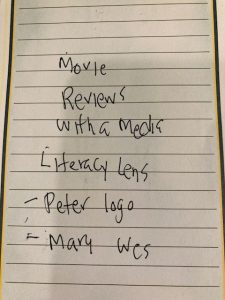 As one of the regular contributors to the AML website, I knew that posts in Word Press (our blogging platform), often work better with a thumbnail visual. I also know about the importance of using images that have no copyright restrictions. I turned to my son, who has a diploma in Game Arts from George Brown College, to create the design.
I offered him a small fee to pay him for his time. It took him about half an hour. He used Paint.Net, which is a free editing program. He consulted me about what I envisioned, and the requirements for the website. Then he searched for visuals that worked with the theme. Afterwards, he started to put things together in a way he thought they would look good. He checked for images that are copyright free or public domain. He showed me what he had developed when it had no words. He tinkered with the type, size, color and placement of the fonts and this was the final result.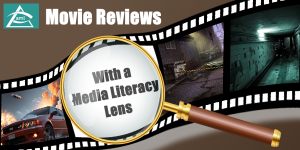 I really appreciated him taking the time to create this for me. It led me to consider about the current strike by screen writers and actors in the United States. This article from Vulture summarizes a few of the reasons for the strike, such as fair pay, no health insurance, revenue share in streaming, etc. Another article in Bloomberg mentions the concern about the use of AI. Business Insider echoed the same concern, citing the practice of offering background actors meager pay in exchange for scanning their digital likeness and studios using it in perpetuity. I wondered how real of a threat this could be to something on a smaller scale.
So, I turned to some AI art to see if I could replicate my son's efforts in seconds.
First I used Dall-E. My prompt was "a thumbnail illustration, suitable for a website, with the words AML and Movie Reviews with a Media Literacy Lens and matching images" These were the initial results.
I know that I would have to alter and manipulate my prompts so I could be more specific. This is just a quick sample, based on the similarly vague directions I gave my son.
Then I used FreePik Company (because I didn't want to give MidJourney access to our Discord servers). My prompt was "a photoshopped image with the title words "Movie Reviews with a Media Literacy lens"". These were the two results.
This last one was from Free Image Generator. My prompt was "movie symbols and critical examination symbols". Here were the top four results.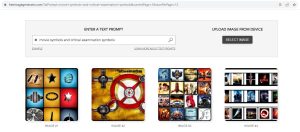 My pathetic results above might suggest that AI art isn't a danger, but I'm not anywhere near adept at choosing the words to direct the actions. If I were to spend 30 minutes changing my prompts to get a visual that I was satisfied with, would that have been the same as my son spending 30 minutes crafting an image the way he did?
I am no expert on AI, although I have done some investigation and action research with young students on the topic. (My research was shared at the Global Media Education Summit in March 2023.) I use this definition of algorithm, which can apply to these AI tools as well. This definition has been adapted from the UNESCO Algorithmic and Digital Literacy website.
An algorithm  is a program that collects data and looks for patterns, then produces output based on the data and prompt input received.
It will be interesting to see how concepts such as credit, validity, ownership, and creativity will evolve or change based on the ability of these programs.
In the meantime, we are looking for real people to contribute to this latest venture. The premise is simple: write a movie review about a recent or older movie, and include questions that fit with the 8 Key Concepts of media literacy, listed under AML's Essential Frameworks tab. We cannot offer financial remuneration, but you can be proud knowing that your questions can help individuals consider all media works (not just digital ones) critically and thoughtfully. Our first entry in this series will be on Wes Anderson's 2023 theatrical release, Asteroid City.