Barry's Wander 2019 – A Personal Reflection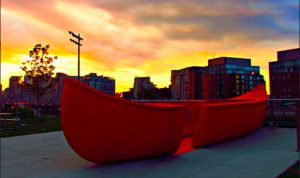 On October 5, a small but plucky band of wanderers paid tribute to AML's founder and mentor, Barry Duncan, by walking through Canoe Landing Park in Toronto and the surrounding environments. Here are some words that Neil Andersen wrote in 2012, the year of Barry's passing: "Barry was a local, national and international provocateur, advocating and innovating media literacy education for over 40 years. He guided the efforts of AML, fostered sister associations in other provinces, forged fruitful relationships with media educators around the world, and produced several resources and taught many AQ courses. Barry died in June, 2012. Of his many contributions to media literacy learning, the most effective—if not the most fun—was the Mall Crawl or City Wander. All of you are familiar with this event. Participants perambulated along a predetermined route, applying media analyses and critical thinking skills to their environments, whether architecture, signage, sounds, merchandise, traffic or fellow pedestrians. The value of the walks lay in the acknowledgment that seemingly banal and everyday aspects of our lives deserve examination for their significance."
Here is a little gem of an interview he did in 1991: https://www.youtube.com/watch?v=K9aYipa0Viw
The 2019 Wander proved a revelation. Intersections of sport, art, recreation, and nature abounded in this area of Toronto that was designed to serve urban citizens, particularly families. We started at Canoe Landing Park—near the nearly-finished Jean Lumb Public School at 20 Brunel Court. We followed the "Terry Fox Miracle Mile", a Douglas Coupland installation, that extends around the perimeter of the park and is marked by several images such as a torn gym sock, and a child's letter to Terry Fox.
The highlight for me was the red canoe, also an installation by Douglas Coupland, that juts out over the Gardiner Expressway, providing a poignant juxtaposition of urbanized Toronto with an historic Canadian icon. Coupland is quoted as saying, "The red canoe out there, that's a piece of urban furniture, . . . That's a way of saying you know what, the Gardiner exists." … He [couldn't] wait to see the relationship that [would] develop between the person standing in the canoe and the person driving on the expressway. Are they going to wave or are they going to be indifferent?" As we media literacy educators know, "Audiences negotiate meaning."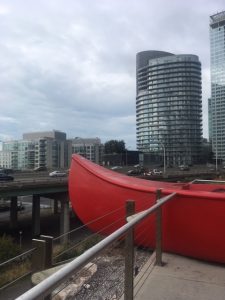 We continued the walk past historic Fort York, where we noted a glaring omission in the massive rusted metal timeline wall: only a few thousand years between Indigenous times and the beginning of 'official' Toronto history! Even a wall becomes media in this context.
As we meandered through the lovely Music Garden west of our final stop at Amsterdam Brewery for lunch, we reflected on the rich range of media experiences to be had in a deeply urban setting. Teachers, no matter where you are with your students, you will always have a media experience to offer them!
Here are some of the Tweets (@A_M_L_) along the way: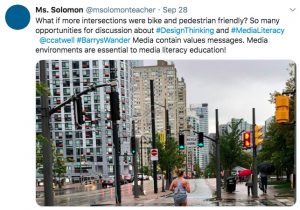 by Carol Arcus, Vice President, AML