Celebrating Media Literacy!
Special thanks to Ms. Keats for co-authoring this post.
For many across Canada and North America, we are in the midst of a major shift because of a pandemic known as the novel coronavirus, or CoVid-19.
In Ontario and beyond, schools have closed and we have shifted learning to online platforms. What better time to focus on media literacy than in a hyper-mediated environment?
Ordinarily this would be a busy time in schools. Secondary schools have entered the last month before culminating activities, and there are many spring celebrations that we would ordinarily discuss or address in the classroom. Many teachers and students are seeking opportunities to reflect the traditions and celebrations we might have highlighted in our face-to-face classrooms in their online forums. In addition, celebrations of Passover and Easter this past "long weekend" were observed in ways that were drastically different than in previous years. The Hindu & Sikh religious celebrations of Vaisakhi happened on April 13. The Tamil new year, Pathandu, is marked on April 14 this year. Persians have celebrated Nowrooz, their new year as well. The end of April (April 23) marks the beginning of Ramadan.  Many of these traditions are important rituals to mark our connections to our communities, and to celebrate with friends and families.
How might these highly-anticipated events be experienced differently this year by our students and ourselves?
The resources and lesson ideas gathered here may help to support students, guide modified celebrations, and reflect on the ways that this pandemic and its responses have changed the way we celebrate culture, religion and even family.
Teachers can create a shared slide deck and students can add to it, creating a collaborative presentation. Teachers can use this as a writing assignment to be submitted through an LMS such as Brightspace or Google Classroom. Students can use video to respond using artifacts/examples. There are so many ways to share the learning online, why not experiment with what works for your class/subject area?
Reflection Prompts
Choose one of the cultures/religions that has celebrated or is about to celebrate a religious/cultural festival at this time (Islam-Ramadan, Judaism-Passover, Christianity-Easter, Sikh/Hindu-Vaisakhi, Tamil-Pathandu, etc.).
Research what parts of the festival/celebration will remain intact, and what will need to change due to pandemic restrictions.
How are media used or avoided in celebrations this year?
How has your chosen religion/culture adapted?
Did you celebrate? 
What was similar or different from previous years?
If you do not celebrate/practice, what have you observed about the practice you are most familiar with that has changed? 
How has it done so?
How have media been introduced into celebrations/rituals that would not have used them previously?
Key Concepts-focused Prompts
(for a full list of the key concepts and other prompt questions, click here)
Media construct versions of reality
How might the celebration be seen differently on each side of the screen, i.e., the side of the creators of the media and the side of the consumers?
What versions of the celebrations have you seen on social media? In your home?
What aspects of the celebration are enhanced by the media? …degraded?
How might those aspects of the celebration influence the meanings and pleasures people make?
Audiences negotiate meaning
As we celebrate together online, how might those on each side of the medium experience the celebration differently i.e., the side of the creators of the media and the side of the consumers?
To whom might this type of celebration (through media) be appealing?
To whom might it NOT be appealing? Why?
Media communicate values messages
What values messages are represented in this celebration?
How might the values messages be affected by the use of a medium?
Are my beliefs/values represented?
Does the medium misrepresent any values?
Form and content influence meaning
As we change the form of the celebration (offline to online), how does the change influence the experience and meanings of the celebration?
Which media are used? How does the form of each medium impact the experience?

What do consumers gain with a change in the form of the celebration? What do consumers lose?
For example: In Judaism, media have always had a place at the Seder (dinner) table in the form of the Haggadah, or book that guides the Seder, as well as the artifacts and symbols on the Seder plate. The Haggadah is not a static document, there are many versions and people even create their own (you can look at haggadot.com for a variety of options). This year, many people have needed to use an online or digital copy in order to share their Haggadah. Moreover, the Seder is usually a larger gathering with extended family and even friends, Jewish or not.

Rabbis have officially declared

video chats like Zoom to be "Kosher for Passover," a position not taken lightly, as Jewish law prohibits the use of electronics during holy days. They had to decide, in this new environment, which edict is more important: not using electronics or connecting with isolated family members? That rethinking is shared with all of the major cultures or religions as we move to navigate this new reality.
What have you decided is a priority for you in this mediated environment? 
What have you done differently? 
What has stayed the same?
Try to apply the questions for at least 1 (ideally 2) of the key concepts to a video-conference celebration. What do you observe?
What extended community efforts have been added to celebrations (i.e., food drive donations,  donations for healthcare workers, etc.).
Several big names got together to do a Passover Special called "Saturday Night Seder" that was a fundraiser for the CDC Foundation but also a Passover Seder.
How does this Seder use the codes and conventions of a telethon/fundraiser?
How is it similar to/different from Christmas specials or other holiday specials that you have seen?
What changes have occurred as a result of the online format?
Coronavirus, Connection & Comparison 
What are some similarities/differences across cultures for these celebrations? Interview someone you know and compare the impact of media on the traditions!
How does the lockdown offer an opportunity to RE-view our faith & practices? I.e., has the lockdown made it easier to see and understand things about the rituals?

https://www.cbc.ca/radio/thesundayedition/the-sunday-edition-for-april-12-2020-1.5525199/passover-easter-and-ramadan-have-a-new-resonance-in-the-midst-of-our-current-crisis-1.5525216
Kids & Religious tradition during lockdown 
How might younger children make meaning out of religious or cultural events during the lockdown? This article explores some of the choices that families have made as they celebrate or observe their religious traditions. How might we use this article in the classroom?
Use the resources below to consider some of the many cultural traditions that occur at this time of year (this year):
Ramadan:
https://theislamicinformation.com/coronavirus-change-ramadan-2020/
https://www.theguardian.com/world/2020/apr/12/easter-passover-ramadan-festivals-test-the-faithfuls-resolve-over-lockdown
Vaisakhi: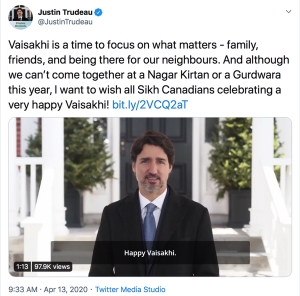 https://ckpgtoday.ca/2020/04/13/vaisakhi-celebrations-will-look-different-says-horgan/
https://www.bbc.co.uk/teach/class-clips-video/religious-studies-ks2-vaisakhi/z6s2t39
Puthandu:
https://www.timesnownews.com/spiritual/religion/article/tamil-new-year-2020-heres-the-date-and-significance-behind-puthandu/576127
Easter: 
The Easter celebration happens each year during the spring, and often falls quite close to Passover. One of the more significant dates leading up to Easter Sunday takes place at the end of Holy Week, and is called "Good Friday." This is the day that is marked for Christians as the remembrance of the events of Jesus's crucifixion and death. The Roman Catholic Church celebrates Good Friday by reenacting these events, known as the Way of the Cross. In Rome, typically, the Way of the Cross has been located at the Coliseum. This year, the location moved to St. Peter's Square and invited healthcare workers to participate by carrying the cross through the various stops along the Stations of the Cross.
The Way of The Cross/Good Friday
https://www.vaticannews.va/en/pope/news/2020-04/pope-francis-leads-good-friday-via-crucis-at-st-peter-basilica.html
Additionally, Easter celebrations also moved online, with many church parishes broadcasting their Saturday Easter Vigil and Easter Sunday masses live via Facebook and YouTube. 
Easter Bunny Declared an Essential Service
How do the acknowledgments of leaders making essential service exceptions for the Easter Bunny highlight the importance of this ritual?
Might this occur again if the lockdown is still in force at Christmas?
https://twitter.com/l_stone/status/1247587422390624257?s=20
https://www.npr.org/sections/coronavirus-live-updates/2020/04/07/828839205/the-easter-bunny-is-an-essential-worker-new-zealands-ardern-says
Subject-Specific Investigations
:
History classes may compare other times when celebrations were altered (for example, the 1918 Spanish Flu)
Social Justice & World Issues teachers may wish to look at the economic impact that online celebrations may have on travel-related worship or celebration (the cancellation of the Hajj, for example)
Geography teachers may wish to map celebrations and even do a virtual field trip to key locations online!
Computer Science teachers may have students design an app for future celebrations that deals with some of the limitations of current offerings.
Health and Phys ed teachers may wish to consider with their classes the effects of these types of traditions/celebrations on our mental health? What are some benefits/drawbacks?
Business teachers may wish to consider how businesses can change/adapt to these new environments (there are SO many great examples to consider).
Visual Art teachers may consider the aesthetics and artistry of these new forms of media. How might design elements have been used to enhance the celebration? What symbols, colours, and visual elements connect the modified celebrations to their historical ones?
English teachers may wish to connect the mediated experience of online learning with these particular holidays:
How has the modified format of these celebrations impacted the audience experience?
How might the changing format invite new audiences to celebrations?
What might producers of these celebrations be needing to consider now that they are being celebrated using video, audio, text and/or computer-generated products?
There are so many possibilities for rich learning experiences. Let us know in the comments if you tried something related to this post and we'll keep the ideas going!
-By Michelle Solomon and Margie Keats