Critical Media Project
The University of Southern California's Annenberg School of Communication & Journalism provides The Critical Media Project.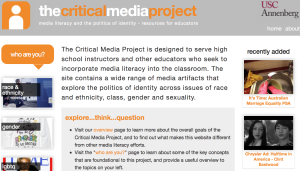 The Project's stated goal is to support high school media literacy learning, which it does through a glossary of relevant terms, a list of links to relevant websites and a searchable database of media texts.
The Project's resource offerings are organized into 4 broad categories: race & ethnicity, gender, lgbtq and class. Choosing one of these, users will find a collection of texts that might be useful for discussion, with suggested questions and discussion.
There are many texts to choose from, so teachers should be able to find suitable–albeit American–examples for their classes.
One useful activity might be to search for non-American examples of the same kinds of texts, values messages, etc.