Digital Citizenship in the Primary Grades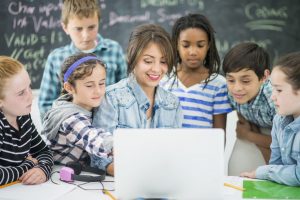 If you're like me you may have already noticed the back to school TV ads are slowly making an appearance. Why not? It is the end of July and that means only one month left to prepare for the first day of school! As a teacher,my mind isn't on buying a new lunch bag or a shiny new pack of crayons (though I do love new school supplies)! It's all about how will I start my Media Literacy program for my primary students in grades 1-3. For the past three years I have been starting with the big idea of digital citizenship.
According to the Toronto District School Board ICT Standards Digital Learning for Grades Kindergarten to 12 (2007), digital citizenship is described as the way in which "students understand human, cultural and societal issues related to technology and practice legal, ethical and safe behavior" (8; 2007).  Digital citizenship is not explicitly in the Ontario Language curriculum, however, within the Media Literacy strand I feel it is embedded. The Language curriculum states the importance of Media Literacy in the lives of students and I would argue, by extension, digital citizenship. "Understanding how media texts are constructed and why they are produced enables students to respond intelligently and responsibly" (Ontario Language Curriculum Grades 1-8, 13; 2005).  There are many opportunities to demonstrate and practice digital citizenship with your student's everyday. Read on for more tips.
Modeling Digital Citizenship in the Classroom
A Kindergarten student once asked me what's inside a worm. I didn't know nor had ever thought about it. So, I proceeded to Google for the answer.  Through the act of me searching the web for this response with the student I was demonstrating digital citizenship by going to websites I knew were credibleand safe. On another occasion, our grade two class typed a thank you email to another class for a skit performed by the students thereby demonstrating societal norms around sending a quick thank you note. You can model digital citizenship by discussing with your students what websites or apps are safe. How the rules around using digital technologies at school and at home maybe different according to the setting. Much like we know the term, "safe for work", I say "safe for school". Through these discussions with your students and children you are instilling a life skill.
Resources for Teaching Digital Citizenship in the Classroom
Looking for resources on teaching digital citizenship in the classroom? Here are some practical ideas. With my primary students I always start off by making a connection to their own lives. We discuss the difference between rules at home and school. We talk about what kinds of digital technologies they have access to. I then introduce the lovable rapping and singing Clicky. To meet Clicky and his friends visit the website www.netsmartzkids.org. This website provides a lot of information from online games to printable activities. I usually use the videos portion, which provides quick music videos of Clicky and his friends rhyming about web safety. The information is basic and states quick tips like never give out your personal information like your name, age or location. It also urges you to talk to a trusted adult if you ever see something that makes you feel sad or upset. The songs are catchy and your students will be singing them for weeks! Asking students to discuss what they hear and see also meets the overall Media Literacy expectation of being able to "demonstrate and understanding of a variety of media texts". It is the discussion that's important. Through various focused viewing activities you may ask your students questions such as; what connections can you make? What do you see and hear? How might you talk to your family about what you have learned? Name one new digital citizenship rule you learned today?
Final Thoughts
Making students aware of digital citizenship is not to scare them about the ambiguous "boogie man" but rather giving them the tools they need to make informed and responsible choices when online and offline. Learning to navigate the online world is not different than them learning to cross safely at an intersection or practice their safe bike riding skills. Having an open and honest discussion with students and their families about digital citizenship encourages students to be responsible citizens today for the world of tomorrow.
Other Digital Citizenship Resources for Students in Grades 1-3
 http://mediasmarts.ca/tipsheet/cyber-sense-poem
This is a cute poem that you can use as a shared reading activity with your primary students. The key message here is keep their personal information personal!
http://www.hectorsworld.com/island/index.html
This website is more appropriate for grade 3 and 4 students who already have some background knowledge about digital citizenship. The videos are full of fun and lovable sea creatures. Topics include sharing personal information to cyber bullying.
This website was mentioned in the above blog. It is appropriate for grades 1-3 students. Topics range from learning what personal information means to using good manners online.
(These lesson ideas are appropriate to an elementary school classroom – ed.)