Hosting a Kindergarten Media Week in a Virtual Classroom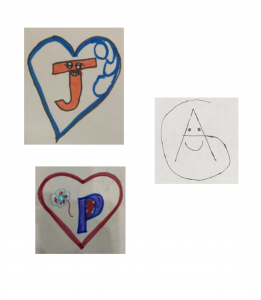 Media educators are everywhere, providing authentic experiences to their students in unique ways. This guest post, by author Jen Balido-Cadavez, shares the way that she involved her students in creating a "Media Week" experience. The official Media Literacy Week in Canada in 2021 runs from October 25 – 30; why not attempt integrating media into various subjects, whether you are teaching online or in-person?
******************************************************
My name is Jen Balido-
Cadavez
and I am a virtual DECE assigned to a virtual Kindergarten class for the 2020-21 school year. I decided to push my creativity in the virtual space and allow myself to explore a "media" week with my class.  The students were able to recite and even re-write the poem that Diana Maliszewski taught students at our bricks and mortar school.  I was impressed with their writing, their sharing of logos they recognized, and even their creativity to design their own logo using loose parts found at home.  I thought, "How can I create a media experience for students that is equitable, enjoyable and fun?"  I brainstormed this question with my class, and the discussion brought us to the idea of going to a theme-park.  Some students had visited a theme park like Canada's Wonderland, whereas some were curious about the idea.  They were also quite fascinated with characters like Minnie and Mickey Mouse.
I then decided to create an unplugged coding activity where we could use our imagination to take a virtual trip to Disneyland.  The activity revealed modified "experiences" such as riding a roller coaster, watching fireworks and even lining up to see characters to take a picture with them.  It was cross-curricular, interesting, and so much fun watching the students engaged in this activity.
We also know in our media definition that "media has a message."  I think that it was fitting that one student commented, "One day when COVID is done, I hope to ride a real roller coaster, I think it would be fun!"
******************************************************
Thanks to Jen and her online students for providing visuals of their Media Week learning artifacts. These images are provided with permission by the student creators.