New Lesson! Library as Media Environment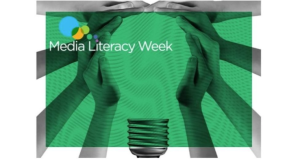 https://nmc-mic.ca/2022/10/19/media-literacy-week-is-right-around-the-corner/
AML's Co-Vice President Diana Maliszewski and AML Executive member June Lee in conversation as they embark on a filmed media scavenger hunt* about "Library as Media Environment".
*A media scavenger hunt is a tour or walkabout in any space at any time with questions about what we see, hear, feel and experience.
Join Diana and June as they go on a hunt at the Markham Village Library in Markham, Ontario.
What will you discover on your next adventure in media?
[This resource is suitable for all levels K-12; Elementary & Secondary]