NAMLE 2021 Conference Reflections
NAMLE 2021 Conference Reflections by Diana Maliszewski
July 16-18, 2021 was the National Association for Media Literacy Education's conference. This American organization shifted, like many other groups did recently, to a completely online format. This decision, combined with the ability to access the on-demand pre-recorded sessions for three months afterward (ending October 15, 2021), allowed participants to view many more sessions than time would usually permit during a "regular" conference. I myself was fortunate enough to consume 12 different presentations. I've listed the sessions in the order that I watched them. Here are my observations and reflections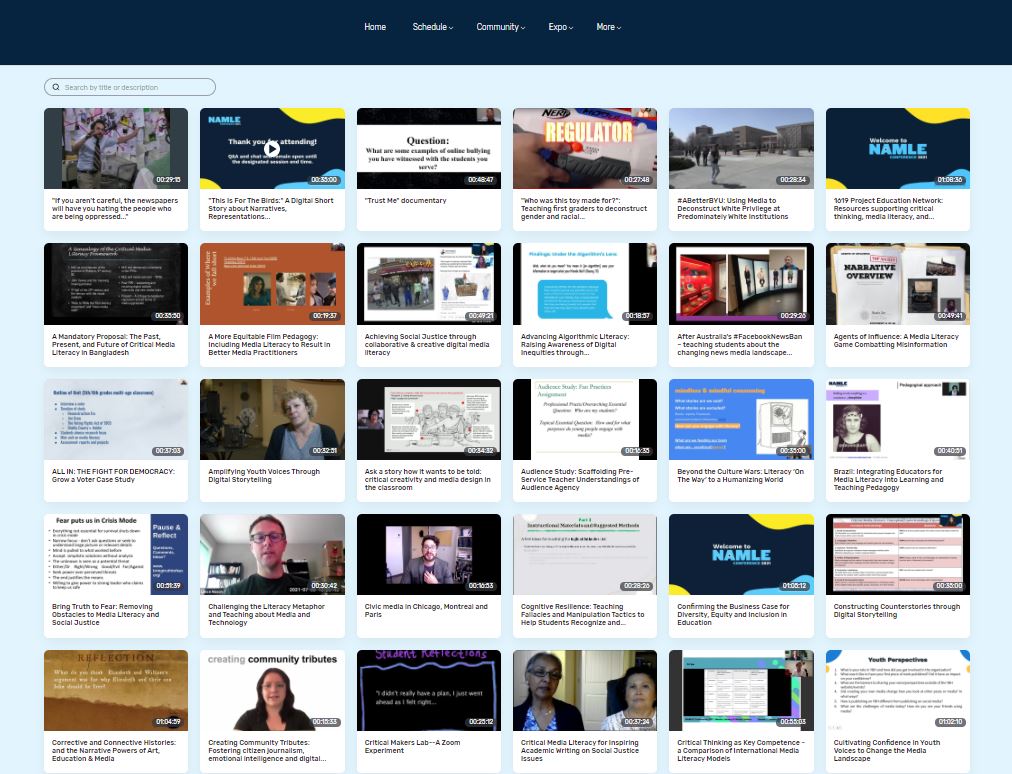 ****************************
Is this anti-Semitic? Questioning popularized family content from the twentieth and twenty-first centuries and breaking down their stereotypes
Michelle Rubin
PhD Candidate
University of Ottawa
Summary (taken from website): As this conference aims to show the relationship between media, information and power, this presentation will look at the media content presented to children over the last century, and we will analyze if children looking at this content may get misinformation or internalize antisemitic thoughts. By questioning the people who created this content, and its popularity when it was emerged, this presentation will help educators explain to children what or how these ideas are antisemitic in a way that is level appropriate. This presentation will use examples of popular content from the late twentieth and twenty-first century aimed for children. Whether it be toys, books, television or online tiktok content, antisemitic content for children or teens is still being produced. Even though this presentation will focus on anti-Semitic content, the lessons and the steps needed to break down each source of media could be applied to different populations that have been discriminated.
3 Key Points:
Rubin used social cognitive theory to inform her session (and mentioned the steps of attention, retention, production, and motivation in replicating behaviour)

Anti-Semitism was defined in this case as "perception / hatred toward Jews, including the myth of Jewish conspiracy or control"

Examples provided during the session (some of which were suggested to be satire or empowering attempts using stereotypes) included a book of "Jew Jokes" from 1908, 1940s cartoons, the 1960s portrayal of Magneto in X Men, the 1982 satirical book

The Official JAP Handbook

, Dr Seuss books as well as the book

Matilda

by Roald Dahl, and the 1990s Rugrats Passover television cartoon special
So what? Now what? 
I thought the presenter really missed a timely opportunity to address recent portrayals, but it seems as if she decided to choose a less-controversial route by focusing on just a few examples from the twentieth century. Many of her examples could be considered using the AML key concept of "audiences negotiate meaning", since the Rugrats show featured a grandfather character (Boris Kropotkin, who had an accent and some of the physical features referenced in Jewish stereotypes) that the Anti-Defamation League said in 1998 was anti-Semitic but I'm sure was not the cartoon producers' intent.
**************************
Media Literacy and Developmentally Appropriate Practice in the Early Childhood Classroom
Faith Rogow
Media Literacy Education Maven, InsightersEducation.com
Susan Friedman
Senior Director, Publishing and Content Development, NAEYC
Ron Grady
Teacher, NOLA Nature School
Rachel Konerman
Early Childhood Education Specialist, University of Cincinnati
Toni Sturdivant
Assistant Professor, Texas A&M University-Commerce
Summary (taken from website): Children explore what they know about the world through their play and they learn about the world from their experiences. How do young children's experiences impact their knowledge and their ability to understand media? How do early educators effectively help young children think critically about what they see and experience from the media and how do they incorporate creating media into their learning activities? Learn what developmentally appropriate practice is, hear from three teachers who describe how they offer integrated learning experiences across content areas and explore how they do or could incorporate media literacy into their teaching using DAP as a lens.
3 Key Points:
NAEYC has foundational position statements and they are moving away from the "best practices" concept to depend more on context and focus on strengths rather than deficits; instead of discussing banning screen time, shift the debate to when/how/why children use screens and their media experiences

3 examples given by 3 practitioners included a) discussions of "when can we learn about real princesses?" (when an educator was reading more culturally diverse examples of royalty to the class) and how we can help students make their "lenses" bigger and more accurate (remembering that these are ways they haven't encountered yet, so approach it as not wrong but interesting, ask vs tell them what to think and grow their own critical lenses), b) good guys and bad guys play and how to balance the rough tumble play while still maintaining values of care and concern (by taping the game, exploring power themes, having conversations, going beyond rote enactments without expressing disapproval at play choices) and c) how to extend or deepen repetitive pretend video game play (by inviting students to make controllers in the block area, looking at the game vocabulary, and making the media their own)

Children should be protagonists in their own learning; this doesn't mean you have to bring all these media items into the class but understanding, listening about the media they encounter ("tell me more"), and trusting children's capacity to interrogate media
So what? Now what?
Bias alert! I met Susan and Faith at my last in-person NAMLE conference and found them both wise and philosophically quite in line with my own positions. I found myself nodding frequently at the points made and really, really appreciated having actual early childhood educators present to share their stories. 

******************************
Powerful Images, Powerful Words: American Indian Stereotypes in Education and Popular Culture
Ami Temarantz
Lead Cultural Interpreter
National Museum of the American Indian
Summary (taken from website): Pop-culture stereotypes and school curricula filled with incomplete and inaccurate versions of history inform and dominate 21st-century public perceptions of American Indians. In this session, participants will learn more about the history and pervasiveness of these problematic narratives and representations and how they profoundly affect Native youth and Native Nations. Participants will also explore the National Museum of the American Indian's Native Knowledge 360° initiative and its resources for building more complete narratives about American Indians. This session will inspire participants to think more critically about these problematic narratives and representations and provoke inclusive dialogues both in the classroom and in society.
3 Key Points:
The book

Do All Indians Live in Tipis?

was written because of all the socio-economic and identity misconceptions that the workers at the National Museum of the American Indian (part of the Smithsonian Institute) have heard from visitors. They acknowledge that the term "American Indian" is an inadequate description or term to use for a generic way of describing over 600 recognized tribes that spread across North America.

Stories like the First Thanksgiving and Pocahontas, as well as the "empty continent" geography and history textbook narratives are false (and erase contemporary Indians) but shape American Origin myths and are hard to shake, despite the fact that that there is something uniquely American about the image of an American Indian and is used frequently in advertisements (especially the misused and misunderstood eagle headdress). A more accurate representation of true American attitudes is how, in the Declaration of Independence, President Washington compared natives to "beasts" and President Jackson created the Indian Removal Law.

Stereotypes in education and pop culture are still being perpetrated – e.g. a 2008 textbook asks readers "Why do you think Americans were willing to give up new lands to Indians?", completely ignoring things like treaties, agency, concepts of ownership and progress, etc. – 87% of state history curriculums have no mentions of Indians past 1900 and 27/50 states don't mention a single American Indian in their curriculum at all. In fact, the most famous ad (from the 1970s of a crying Indian as part of the EPA) was portrayed by an Italian because he "looked more native" than actual American Indians. Stereotypes do have an impact, varying by region and proximity to "actual" native people. 
So what? Now what? 
This fit well with me finally finishing the book The Inconvenient Indian by Thomas King, and reinforced several ideas. The idea that Indians are a homogenous group frozen in time does damage. We have to learn more about specific communities, and learn more complete histories that are developed with and by native people. We need to continue to advocate for the removal of harmful stereotypes (the 2020 change of the Washington DC football team's name is just a start). 
*************************
Weaving School Libraries into the Media Literacy Fabric for Social Justice
Sylvia Knight Norton
Executive Director, American Association of School Librarians
Jennisen Lucas
President, American Association of School Librarians
Summary: (taken from website) Content courses stand alone as the warp on a loom, each strand following a distinct path, but not connected to other content or courses. Media literacy focuses on the process by which we learn to understand the relationships between media, information and power. These processes become the weft, the cross threads providing connectivity between content areas enabling learners to create new knowledge through the power of information. In thispresentation, we will share the six AASL Standards to Inquire, Include, Collaborate, Curate,Explore, and Engage and how school libraries are where all learners can weave their own creative patterns for social justice.
3 Key Points:
In the collective imagination, there is a disconnect between libraries, technology and information but this is far from the truth. Libraries have a major role to play in disseminating and preserving human record and cultural heritage.

We need to ask questions such as "Who made it? Why?" Look closer and consider things like the personalized search experience, confirmation bias, critical thinking, etc.

The AASL ideas of Inquire, Curate, Explore, Include, and Engage are timely concepts. They match the AASL core values of learning, innovation, equity-diversity-inclusion, intellectual freedom, and collaboration. Purposes and messages are mixed and true knowledge comes from connections.
So what? Now what? 
The metaphor of weaving carried this workshop.Because this topic unfamiliar to me, there were times that I "lost the thread" (pardon the pun) when contemplating the waft and beater bar. Still, it was great to see the library-media connection solidified and justified my inclusion of media literacy concepts in some teacher-librarian courses I've developed. 
*******************
Advancing Algorithmic Literacy: Raising Awareness of Digital Inequities through Game-Based Learning with Youth
Kara Brisson-Boivin
Director of Research, MediaSmarts
Samantha McAleese
Research and Evaluation Associate, MediaSmarts
Summary: (taken from website) Based on qualitative research with young Canadians aged 13 to 17, this presentation outlines findings and recommendations related to algorithmic, digital, and critical media literacy. Conversations with youth about their experiences online confirm that insufficient knowledge of artificial intelligence and algorithms contributes to various privacy risks, exclusion from online spaces, tech-facilitated discrimination, and exposure to harmful content. Youth expressed concerns about the increasing reliance on algorithms and artificial intelligence and the impact of these always-already changing technologies and processes on their lives. This project created space for youth to reflect on and learn more about algorithmic systems through an educational game designed to build awareness and meaningful understanding. A scaffolded learning experience allowed for in-depth discussion with participants and demonstrated the value of game-based learning in making young people aware of digital inequities and social justice issues, like algorithmic bias. While participants saw some benefit to machine learning and algorithmic filtering, specifically for entertainment content, they were troubled by data collection and privacy; the accuracy of recommended content and how this might create a false sense of consensus; and the algorithmic uses of personal data to generate assumptions about people and how bias in these process can lead to discrimination and marginalization. The recommendations from this research echo what participants told us about the need and desire for more algorithmic awareness, transparency, protection, control, and ongoing engagement with youth.
3 Key Points:
The researchers used Zoom and Roll 20 online forums as their focus group spaces

Participants shared comments such as "they prioritize trends over actual information" and "algorithms sometimes get it wrong and make assumptions that are incorrect" 

"Computer discrimination" (inferring race/class/gender through other data) is bad for business, erodes trust in AI. Youths want awareness, protection, control and transparency and recommend understanding the impact of AI, so that students not just learn to code but can take control of their own personal information (so adults need to improve their lack of algorithmic knowledge to help young people learn about it too).
So what? Now what? 
This is a minor observation, but I really liked how the presenters not only provided their pronouns but described themselves and their seen-on-video environment; that was a concrete way of being more inclusive to any potential audience members who were relying primarily on the audio. My students have taken part in the past in Media Smarts' Young Canadians in a Wired World project, and it's nice to see that it is continuing. I myself will need to read more about how algorithms work and include it as part of my media literacy lessons. 
*********************
This ain't your mother's media literacy: rethinking emerging media literacy education challenges
Neil Andersen
President
The Association for Media Literacy
Summary: (taken from website) Gigantic and monolithic media corporations, their national and international leverage, and the January 6 invasion of the US Capitol have foregrounded a crisis in our relationship to media corporations and communications. It has also underlined the need for a rethink of media literacy education, first posited by William Merrin and David Gauntlett in 2007. Their provocations, that media literacy education has failed to evolve in step with our digital experiences, have become critical. 
Are teachers failing their students by omitting aspects of media literacy that are essential for safe and effective 21st-century media literacy and healthy citizenship?
Does media literacy education need a new engine or a tune-up? 
Is this a zero-sum game, where some topics need removal to make room for new ones, or do we need to rebalance older and newer curricula?
This presentation will synthesize relevant ideas from Marshall McLuhan, David Gauntlett, William Merrin, and George Lakoff to imagine a robust 21st-century media literacy education.
3 Key Points: 
Media literacy, with its links to popular culture, has been seen in the past as "vulgar". Historically in Ontario, it has been attached to the language curriculum with codes and conventions but it is so much more (e.g. cultural studies, from text/producer to audiences/social function) and in more modern times the scale, audience and networking effects have evolved.

Neil and Carol have had some powerful conversations with some of the most innovative media literacy thinkers and have had some great insights (e.g. different skills beyond broadcaster, producer, consumer > think hacker, hacktivist and cypherpunk)

Neil suggests adding another key concept to the ones used by AML > media and relationships.
So what? Now what? 
I'm lucky, because I have regular access to Neil since we are both part of AML. I will need to talk to him further about this idea of a ninth key concept of media literacy and see where it goes. 

*************************
Why Creativity Matters for Media Literacy
Theresa Redmond
Associate Professor
Appalachian State University
Summary: (taken from website) Over the past five years, media literacy has gained national attention as a requisite and valued dimension of schooling that has long been missing. Yet, the vision of media literacy that has been thrust into the spotlight narrowly conceptualizes the field as one focused on defining objectivity, validating information sources, or decoding bias. Fact-checking curricula with catchy acronyms have flooded K-12 and higher education arenas as students are positioned as passive dupes who mindlessly scroll and share. While the infodemic and the civic discord it has stirred demand a response, the unintentional effects of a narrow curricular focus on information or validating sources generates a one-way curriculum that diminishes the creative potentialities of media literacy. In this session, I argue that a complete media literacy curriculum must include creative, arts-based pedagogies. Specifically, I will share my research using expressive inquiry through remix in an undergraduate media literacy class. I'll discuss my initial findings related to the use of remix as a reading response, as well as my research-based assessment strategies for cultivating complex, higher order thinking. Through media making, students of all ages and backgrounds may be invited to construct and express their knowledge in ways that decenters the supremacy of the alphabetic language in learning. And, here-in lies the vital connection to social justice. Without incorporating creative expression into media literacy, the curriculum itself will perpetuate narrow, supremacy cultures focused on alphabetic texts and right-way readings or responses. Through creativity, we can create pathways to learning for all students.
3 Key Points:
Creativity supports diverse ways of knowing and remixing as curricular modification is a creativity intervention and transformative expression.

Creativity via remixing combines synthesizing content while interpreting and reworking it with their own experiences, which makes it effective and engaging, allowing access to deeper levels of attention to self and others (metacognition). 

Students are more emotionally engaged and remixes increase transference and allows a common ground despite the polarized media environment.
So what? Now what? 
I've enjoyed listening to Theresa before. I appreciate that she introduced me to a new poet and strengthened my resolve to continue offering as many creative outlets for demonstrating knowledge and understanding for my students. 

*********************
Nothing About Us Without Us: Centering the Tenets of Critical Media Literacy in Communications
Moira Fratantuono
Development & Communications Director, Wide Angle Youth Media
Hannah Shaw
Communications Specialist, Wide Angle Youth Media
Summary (taken from website): 2020 underscored that the language used by the media, and our society as a whole, has both powerful and devastating consequences. In response to the summer Black Lives Matter movement, Wide Angle Youth Media recognized an opportunity to extend critical media literacy beyond its classrooms through a revamped communications strategy focused on language and storytelling.  
Like much of the nonprofit and philanthropic sectors, Wide Angle is white-led, serving a majority BIPOC community. Without intentionally dismantling the narratives of white supremacy, they can unintentionally color organizational approaches to the work. In addition, social justice terms are frequently co-opted and misused within the media to become the coded language of oppression. 
As a result, there is no common foundation for how these sectors discuss their intended impact, and the stories nonprofits tell to highlight their work can unintentionally disempower communities they engage.   
Creating shared definitions and including constituent voices are crucial, but often overlooked, components of critical media literacy that should be woven into nonprofit communications strategies. These practices lead to more productive conversations within and across the sector, center marginalized perspectives, and inform how they are elevated.   
This presentation will outline Wide Angle's year-long process to more directly engage our youth in communications efforts, collectively create and define mission-aligned vocabulary rooted in social justice, and intentionally promote racial equity by uplifting youth voices and addressing challenges within the nonprofit sector. Participants will learn how to audit their current communications efforts, engage constituents through collaboration, and review tools developed by Wide Angle.
3 Key Points:
It's important to shift DEI (Diversity / Equity / Inclusion) work externally as well as internally, unveiling power hierarchies.

Watch our language (e.g. "empowering" may deny a group's agency in their own lives) by examining key words and clarifying common language.

It's helpful to have other groups assist organizations in this process (e.g. Center for Racial Justice in Education, Liberating Structures, The People's Institute for Survival and Beyond, the Racial Equity Institute, etc.)
So what? Now what? 
I tweeted the idea about considering what we mean (intentionally or unintentionally) with our use of certain words like "empowered". That was probably my biggest takeaway from this session. 

********************
Media Literacy as Anti-Racist Pedagogy
DJ Johnson
Associate Professor of Practice, Division of Media Arts + Practice, University of Southern California
Alison Trope
Clinical Professor/Director of Undergraduate Studies, University of Southern California
Summary: (taken from website) This paper explores the role of media education in antiracist pedagogy by examining Critical Media Project (www.criticalmedaproject.org) as an educational intervention in social identity and justice. Working in schools since 2015, CMP's curriculum builds on the site's foundational structure and mission to put media in context and build student awareness and critical thinking around representations of social identities and their intersections. CMP introduces media norms and problematizes stereotypes, contextualizes them historically and in relation to institutional structures, and opens up the possibility of counter-narratives. In turn, CMP gives youth opportunities to push back, rewrite themselves and generate new and revisionist perspectives affirming their lived experiences and promoting self-efficacy. This paper will discuss our youth-centered work, designed to generate knowledge and provide an accessible and engaging entry point for students to explore identity. In the wake of the murder of George Floyd and the ensuing protests around the globe, CMP released a curated media playlist focused on Black protest and social movements. This playlist serves as an example of using media literacy in the context of antiracist pedagogy to explore the history, underlying causes, politics, and representation of Black protest and social movements in U.S. history. We will consider how this playlist and our other curricular materials can be used as foundational to antiracist pedagogy, while also remaining cognizant of the social and political discourses that frame identity politics as liberal indoctrination, creating a volatile terrain that teachers and school districts must try to (or learn to) navigate.
3 Key Points:
Our school systems are not free from bias. Curriculum is informed by racism, sexism and classism. It is important for all students, not just the marginalized, to have critical media literacy.

The Critical Media Project aims to be foundational to anti-racist pedagogy. The playlists are curated since the quantity can be overwhelming.

Are all teachers and students ready to do anti-racism work? How do we nimbly contextualize accusations of "liberal indoctrination"? 
So what? Now what?
I need to remember to go to criticalmediaproject.org and remember some of these resources (even though they might be very American-focused).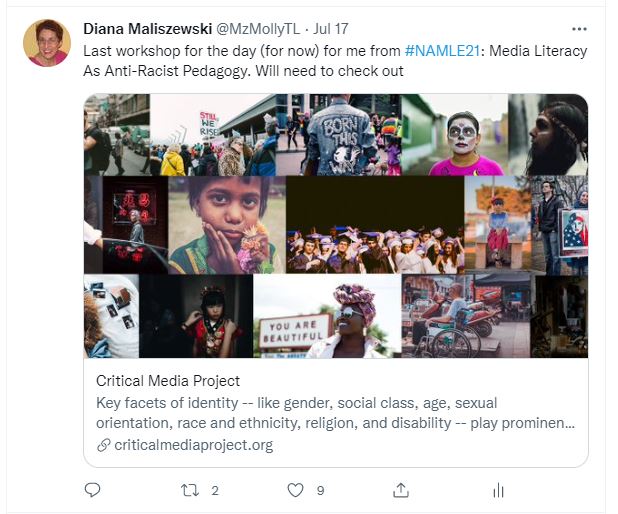 *******************
"Who was this toy made for?": Teaching first graders to deconstruct gender and racial stereotypes in kids' toy commercials 
Shanique Coombs
Graduate Student
Baylor University
Summary: (taken from website) This lesson plan was created to dismantle the societal norms of gender stereotypes about toys and to emphasize the racial stereotypes placed in kids' toys commercials. This first-grade lesson plan follows the 5E instructional model. Instruction is primarily student-led and inquiry-based. The teacher is a facilitator, guiding the student through questions, investigations, and experiences. Eventually, students arrive at a deep understanding of literacy concepts in regard to the media. Instruction starts by engaging students to discuss the types of media they are familiar with, allowing them to unpack their schema. After the introduction of the lesson students will explore a toy [teddy bear] during the exploration, they will think "is this toy for a boy or girl?" After, students have a brief class discussion based on their observations. Students will then begin to identify stereotypes in the media by watching two commercials, one that showcases a typical toy for a male and the other showcasing a typical toy for a female. Once the video concludes, students will participate in a guided discourse about the racial stereotypes and gender biases seen. Students will discuss their perspectives by sharing their feelings, thoughts, and deliberate how this impacts the opposite gender and race. Students will elaborate on their discourse by engaging in an activity. Students will show understanding of media and advertisement by creating a call-to-action poster.
The poster will showcase their perceptions about gender and racial stereotypes in media. Additionally, students will create their own toy that is gender-neutral and showcase equality.
3 Key Points:
Black and brown children are rarely represented in toy media

When the students watched a Nerf Gun and Hatchimal ad, then were asked what they heard and saw and what connections they made – some noticed the children featured, the music and the settings

Calls to action demand a shift
So what? Now what?
This project felt familiar to me, having done similar things in the past. I liked her guiding questions: What is media? What are stereotypes? How does the media showcase gender stereotypes with toys? How can we counteract gender stereotypes? I guess my next step is to continue to offer lessons like this. 

********************************
DECOLONIZING MEDIA LITERACY: AN INDIGENOUS POSITIVE DEVIANCE COMPARATIVE CASE STUDY OF MUNICIPAL GOVERNMENT CIVIC EDUCATION/PROPAGANDA FOR CRITICAL CONSCIOUSNESS TOWARDS SELF-DETERMINATION
roque a. aguon, jr.
Executive Director-Volunteer
Borderlands SocioCultural Foundations of Education of Education Research Initiative-BSCFERI, University of Texas
Summary: (taken from website) Civic and media education across diverse municipalities on Guam and Texas are lacking research, curriculum, and pedagogy, by modern Indigenous social science researchers of white dominant culture about how diverse cultural group influencers apply education/propaganda to engage in the process of municipal public policy-making that informs holistic community development, democratic citizenship education, and social change. The objective of this study exposes an urgent need to decolonize civic and media engagement in the local policy process and media literacy practices on the U.S.-West Texas border, the U.S. colony of Guam, and Central Texas which is critical to society in the current era given the rhetorical tirades exhibited throughout media and political platforms among minority/Indigenous communities. This dissertation develops knowledge in the forms of research, curriculum, and pedagogy for community and individual critical consciousness towards self-determination. The study is for Indigenous peoples (and allies), by Indigenous knowledge and research that pertains to the lack of community education about democratic citizenship to increase civic participation applying a theoretical triangulation framework of analysis naming Decolonizing Media Literacy Theoretical Triangulation Framework centering an Indigenous Positive Deviance and Comparative Case Study mode of inquiry as part of a dissertation in progress.
So what? Now what?
I have to be honest; this was the first session that I listened to that I really didn't understand. There were lots of points about researcher positionality and references to Freire, Ladson-Billings, Jean Anyon and Tuhiwai-Smith. I tried but it the end I had to abandon the session. 

********************************
It's Never Too Early to Talk About Race with Sesame Workshop
Akimi Gibson
Vice President & Educational Publisher, Formal Learning and Racial Justice Content Synergy,
Michael Preston
Executive Director, Joan Ganz Cooney Center
Summary: (taken from website): Sesame Workshop is a community built on diversity, equity, and inclusion, where creators, educators, partners, and unforgettable characters come together on a mission to help kids grow smarter, stronger, and kinder. Together, Sesame Workshop and the Joan Ganz Cooney Center conduct timely research, create learning resources, and lead social impact projects designed to meet the developmental, physical, and emotional needs of children. Sesame Workshop creates and shares resources to help all families foster open and age-appropriate conversations about identity, race, and racism, and the Joan Ganz Cooney Center conducts research to empower the wider community of educators, practitioners, and producers to create inclusive content and technologies that consider the needs of diverse populations. In this session, Akimi Gibson, Vice President & Education Publisher at Sesame Workshop and Michael Preston, Executive Director of the Joan Ganz Cooney Center, will discuss their recent work and Sesame Workshop's efforts to address racial literacy as part of its Coming Together commitment to racial justice. 
3 Key Points:
Early decisions were made about Sesame Street with the goal of closing the achievement gap. In 1969 TVs were in 95% of homes and Joan Ganz Cooney felt there was a lot of untapped potential in the medium.

The session "Elmo and Louie Talk About Race" helped sensitively deal with what everyone was seeing on the news – e.g. defining a protest as people coming together to show they are upset, share their feelings, and make signs to express themselves; that they are upset because they have a right to be, because racism is a huge problem and "not all streets are like Sesame Street".

Their current framework is racial justice, not multiculturalism / is equity and empowerment, not permission granting / is authentic, not appropriation / is hopeful, not hopeless – media representation matters to teens (Gen Z is more diverse and seek progressive causes, Gen Alpha is our current 0-5 year olds).
So what? Now what?
As part of this session, they played a clip called Meet the Clutes, which was a wonderful focus on a Mohawk family. That would be great to play for K-4 classes. It was positive and revealing. The speakers said it was hard to provide content for those older, and they are trying to address this gap with an HBO series called Through Our Eyes. I will need to keep my own eyes out for it. 
***************************
What So Proudly We Hailed / Our Home On Native Land: Analyzing Anthem Videos
Diana Maliszewski
teacher / AML VP
Toronto District School Board & Association for Media
Summary (taken from website): Opening exercises in elementary and secondary school settings follow a predictable pattern. How often do we take a critical look or a fresh point of view at examining the values and messages communicated within those traditional routines? These lessons were taught in a Grade 5-6 classroom in Toronto, Canada but can be applied to online learning environments as well as schools in other countries. In Canada, each school day begins with the playing of the national anthem, "O Canada". What versions are chosen to be shared? How are they shared? Some schools have begun to play virtual, video announcements. In these lessons, students are invited to take a closer look at what versions of the anthems are played. Key concepts such as "audiences negotiate meaning" and "media communicate value messages" will be applied to thoroughly analyze these important media texts.
3 Key Points:
In Ontario, it is in the Education Act about principal discretion in reciting the oath of citizenship or singing O Canada.

Propaganda is not a negative word, but has become so in the 21st century.

We can analyze anthem videos (played during virtual announcements) and other school practices with probing questions that aren't meant to label things as "good" or "bad" but "interesting" or "noteworthy".
So what? Now what? 
I'm biased. This is my presentation. I watched it to see how it looked. I hope that people got the message that questioning something doesn't mean you hate it – being critical isn't anti-patriotic. 
**********************************
Power in the Picture: Reading Aloud Jerry Craft's "Class Act" and Unpacking Social Justice Issues
Diana Maliszewski
teacher / AML VP
Toronto District School Board & Association for Media
Summary (taken from website): "The human species thinks in metaphors and learns through stories." (Mary Catherine Bateson). Graphic novels tell their stories through a complex combination of words and images and are worthy texts to consume in class, including as read-alouds. Read aloud experiences are not just a matter of reciting phrases on a page; they involve careful consideration of probing questions and perfect timing – knowing when to pause at a particular moment in the text and when to push on. In this classroom demonstration, the graphic novel Class Act by Jerry Craft will be read aloud and interpreted through guided questions with Grade 5 and 6 students in attendance. This graphic novel is, to quote School Library Journal's review, "a funny and appealing, yet sensitive and nuanced middle grade tale of inequity and microaggressions".
3 Key Points:
Graphic novels are not "easy reads" – there's a lot happening on a page and it's important to slow down to read to catch all the messages.

Reading personalizes experiences others have and causes readers to care.

The incident of racial profiling that occurs in the book

Class Act

helps students understand the issue, opens up discussion, and furthers anti-bias equity work.
So what? Now what?
This is another session I created and delivered, so I cannot comment objectively. I'll continue to ensure I read books by authors who are part of the Global Majority, check my own privilege, and do the work.