What #WeTheNorth Can Mean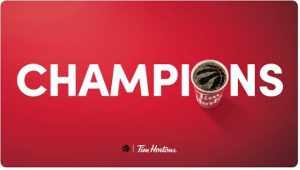 Media Literacy and the NBA Champions: On Thursday, June 13, 2019, the Toronto Raptors, the only current Canadian franchise in the NBA (National Basketball Association), won the NBA Championship. (I say current, because from 1995-2001, Vancouver had the Vancouver Grizzlies, but they moved.)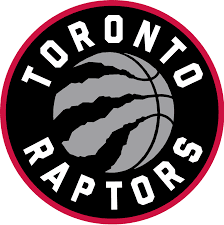 This is the first major sports championship to be won by a Toronto team since the Toronto Blue Jays won baseball's World Series back in 1992 and 1993. As you can imagine, it's a big deal.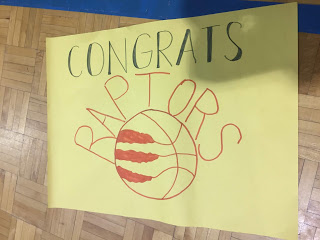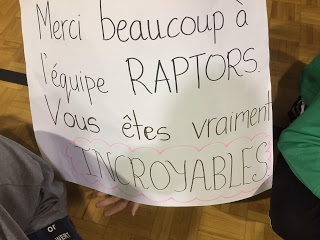 In education, it's important to be responsive to the lived experiences of our students. If we can bring what matters to them somehow into the classroom, the learning can be richer. I was curious to see what teachers and schools would do to celebrate, but also elevate the conversation. The Raptors win is a perfect opportunity for rich media literacy discussions. I scanned Twitter for evidence of these conversations, but I didn't see as many as I had hoped I would find. I want to give a particular shout-out to Larissa Aradj (@MrsGeekChic), the tweeter for @TDSB_ChurchStPS, Jamile Garraway (@_MisterGee), Beryl Cohen (@berylcohen) and Margie Keats (@ms_keats) for the most learning-centric examples I was able to spot on Friday June 14.
Church Street PS, based on their tweet, connected their study of mindfulness to the Raptors. They also got be involved with media production, as a news crew came to visit them at school.
— ℂ????? ??. ℙ.? . ?? (@TDSB_ChurchStPS) June 14, 2019
Mr. G's school (Alvin Curling P.S., if his reference is to the wonderful teacher-librarian Gloria Westrik), connected the Raptors to the TDSB's character traits. (There was another school that had their students research the biographies of many of the Raptors players and show how they exemplified perseverance in the face of adversity – I apologize for forgetting the name of the tweeter.)
Hard work, perseverance, grit, determination. We have been inspired by the @Raptors all year. Thanks to the incomparable Mrs. Westrik for documenting the journey. pic.twitter.com/66K4liIL5r

— Jamile the Teacher (@_MisterGee) June 14, 2019
Mrs. Aradj, over at Lord Lansdowne P.S., made a very overt media connection, by buying and then analyzing all the Toronto newspapers and how they covered the win.
— Larissa Aradj, OCT (@MrsGeekChic) June 14, 2019
Margie Keats took it to another level with her tweets, which doesn't surprise me, considering that she is a member of AML (Association of Media Literacy).
— M. Keats (@ms_keats) June 14, 2019
I really appreciated the tweet written by Beryl Cohen, a TDSB Learning Coach. It's so important not to let the victory overshadow issues concerning equity and other ongoing concerns.
— berylrcohen (@berylrcohen) June 14, 2019
There have been many posts on various social media platforms. (My focus here was just on Twitter.) Most are celebratory and joyous. What I hope will happen (or continue to happen) after the parades and replays are really fruitful, productive and thoughtful conversations about some of the many aspects of this win. Thinking critically doesn't diminish the win, but can bring new understanding. These conversations can even occur informally, as students are colouring or drawing their Raptors signs, flags, and banners for their own parade (as what happened in my own school on Friday). Here are some subtopics and questions (in the style of Margie's tweets, and also borrowing liberally from Carol Arcus and Neil Andersen's radio chat with Stephen Hurley on the show "Mediacy" on VoicEd Radio Canada) for consideration. This is not meant to be an extensive list – just inspiration for educators to come up with their own deep questions!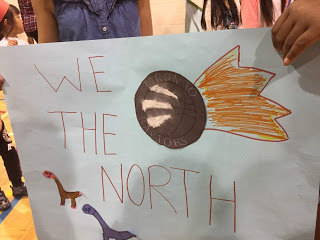 Hashtags and Slogans
What are some of the hashtags that people use when discussing the Raptors' win?
How are they the same and how are they different?
I had a kindergarten student chant "We The North" with the rest of the school, and then turn to me and ask, "What does 'We The North' mean?".
Discuss this slogan.
Where have you seen it?
What does it mean?
Jumping on the Bandwagon
Who stayed up to watch the game?
Where/how did you watch it?
Does that make a difference?
Why did people stay up late to watch?
Who usually makes a point of watching basketball?
Why do so many more people start paying attention to a sports team when it is in the playoffs?
Does it matter that there are "fair-weather fans"?
What about the people who don't care about basketball at all, even with the Raptors in the playoffs?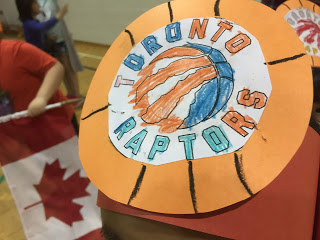 News
Compare the different coverage from different cities around the world about the Raptors win.
What about St. Louis (whose team just won the Stanley Cup in hockey after a long drought)?
What news might have been left off the front page that day?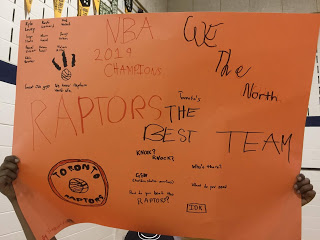 Fans and Community
Two famous fans of the Raptors are Drake and "SuperFan" Nav Bhatia. What does it mean or take to be a "mega-fan"?
What is the economic cost?
(How much did those NBA Championship tickets go for?)
Several "Jurassic Parks" evolved all over Canada – what elements were required to have a "Jurassic Park"?
Why did so many people go downtown and brave the wind and rain to stand outside to watch the screen?
Why do Canadian fans say "We won" when they were not themselves on the basketball court?
Unfair Treatment
The Raptors General Manager, Masai Ujiri, was punched and pushed by a police officer as he tried to celebrate the win.
Raptors player Kyle Lowry was shoved during the game by Golden Warriors part-owner Mark Stevens.
How are these two incidents similar and different?
What about analyzing referee calls?
Are they biased?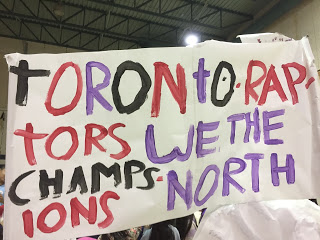 Merchandise, Signs and Memes
When I did an image search for the Toronto Raptors, my search engine immediately brought up items for purchase. This didn't happen when I searched a few days ago.
What's being sold?
Why?
For how much?
Do you have to have a Raptors jersey to prove your love for the team?
Who gets this money?
What is the most common image seen on signs?
Why?
What message does it send?
What phrases and colours are seen most frequently?
Why?
The Raptors Twitter account has created several memes, photoshopped images (like team members standing on a Californian bridge) and "bobble head videos" featuring their players (such as the "Full House / Raptor House" parody). Watch them and consider the intended audience.
Canadians and Basketball
Did anyone see the Jimmy Kimmell clip where Canadian Raptors fans were unable to properly trash-talk the opposing team?
How much of this is stereotype and how much of this is real?
Why is such a big deal currently being made of the creator of the sport of basketball being Canadian?
Parades
The City of Toronto is holding a parade in honour of the Raptors on Monday, June 17.
Why do we have parades?
Who decides to have them?
What do they represent?
What events tend not to be celebrated by a parade, but maybe should be?
Compare this parade to others, like the upcoming Pride parade.
What do the parades have in common and how do they differ?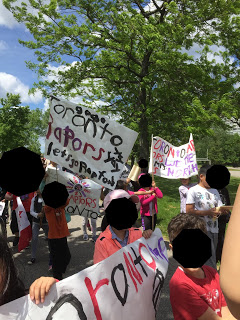 I hope that this is just the beginning of some great, media literacy infused conversations. Congratulations Toronto Raptors, and thank your for providing Canadian educators with some great lesson fodder for the last few weeks of school!
Note: This post was published here and simultaneously on http://mondaymollymusings.blogspot.com on June 17, 2019.
(This lesson idea can be adapted to both Elementary and Secondary classrooms – ed.)