Why Some Words?
Why Some Words? by Diana Maliszewski
One of the 2023 Ontario Library Association's Forest of Reading nominees is Can You Believe It?: How To Spot Fake News and Find the Facts by Joyce Grant and Kathleen Marcotte. This is an enjoyable text with many media literacy connections.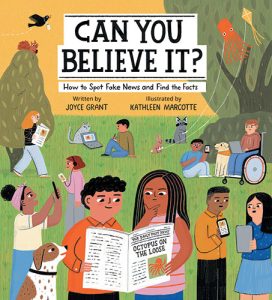 The Ontario Library Association describes it like this:
Everything kids need to know to tell facts from "fake news" on the internet.

Here's a comprehensive guide to how real journalism is made, what "fake news" is and, most importantly, how to spot the difference. It provides practical advice, thought-provoking examples, and loads of explanations, definitions and useful context. Never judgmental, it encourages young people to approach what they find online with skepticism and helps them hone their critical-thinking skills to make good choices about what to believe and share. It's a must-read book on a topic that couldn't be more important in today's online world.

Sure, kids know how to look for things on the internet. Now they'll know how to look at them, too.
Kids Can Press, the publisher of Can You Believe It? has this to say about their book:
For today's tech-savvy kids, here's the go-to resource for navigating what they read on the internet.

Should we believe everything we read online? Definitely not! And this book will tell you why. This fascinating book explores in depth how real journalism is made, what "fake news" is and, most importantly, how to spot the difference. It's chock-full of practical advice, thought-provoking examples and tons of relevant information on subjects that range from bylines and credible sources to influencers and clickbait. It gives readers context they can use, such as how bias can creep into news reporting, why celebrity posts may not be truthful and why they should be suspicious of anything that makes them feel supersmart.

Young people get most of their information online. This must-read guide helps them decide which information they can trust – and which they can't.

Author and journalist Joyce Grant is an expert on how young people interact with and think about online media. Never judgmental, and often hilarious, she encourages readers to approach what they find online with skepticism and helps them hone their critical thinking skills to make good choices about what to believe and share. Engaging text is broken into manageable chunks, with loads of Kathleen Marcotte's playful illustrations on every spread to help explain tricky concepts. Two fake articles are deconstructed step by step using the information found in the book, and an additional article allows readers to test their skills. This comprehensive book has strong curriculum connections in language arts and social studies. Endmatter features a glossary, an author's note, sources and an index.
(It would actually be a pretty intriguing activity to compare how different media outlets promote this book. Both groups have a positive spin on the book, so how are their approaches similar and different?)
I appreciated references to some classic media links, such as the tale of the Tree Octopus and the House Hippo. The strategies that the book suggests are relevant and useful. Joyce Grant, the author, is an integral part of the website Teaching Kids News (www.teachingkidsnews.com), an age-appropriate news site for children.
To differ this post from other book reviews, I wanted to consider why some words / terms are frequently used (both in this book and in general discourse surrounding media literacy) and why other words / terms are not used at all.
Why These Words? = Fake News
The subtitle of the book states that it's about "fake news". Fake news is a big deal. If I had a digital copy of the book, I'd be curious to see how many times the phrase is used. (I read a print copy and did not bother to manually count.) I thought it was quite clever of the author to "mention without mentioning by name" the individual who is responsible for the upsurge in the use of this term in the 2010s. As Grant states, "fake news" has been around for a very long time. (Wikipedia suggests the 1890s.) She does an excellent job of highlighting how newspapers of the past altered their coverage and emphasized certain portions of a story to tantalize readers. Using the term "fake news" demonstrates that the author is up-to-date on current events. Check out media literacy conferences and consider how often the term is used as part of a session description. Despite this increased interest by the general public, the term has become problematic because it has been co-opted by some people. Once again, Grant does a good job of pointing out that just because someone does not like the way a story is reported does not automatically make it fake news.
Why Not These Words? = Lateral Reading
Grant describes a study in which students, historians, and fact-checkers were asked to examine a website and determine the credibility level of the content. Students and historians did a poor job of evaluating the information. Fact-checkers did a much better job; Grant explains that it is because the fact-checkers did not remain inside the text to be scrutinized but instead searched elsewhere to corroborate the data. When I was younger and newer in my own media literacy journey, I knew this approach as "triangulation" (and you can read about my experiences with triangulation at https://mondaymollymusings.blogspot.com/2021/05/triangulation.html); a more accurate term for this might be "lateral reading". At the risk of answering my own question too quickly, I suspect that the reason this term isn't as well-used is because it's much more academic. (The process is similar – see the News Literacy article on the topic for more detail.)
Why Buy?
I'm glad I have a copy of this book in my school library. Unlike similar books, it doesn't dwell on the "media is terrible and out to trick you" angle. It demonstrates that with some applied strategies, it can be possible to be a more discerning reader/listener/viewer. (Whether or not you use the strategies is up to the individual!)