Death by a Thousand Cuts: Another Loss to the NFB's Education Sector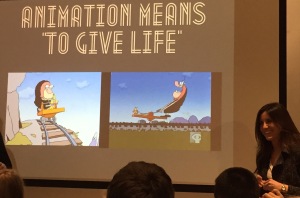 Three years ago, the NFB closed its doors to the public. The consolation for educators was that they would be able to use that savings to preserve their workshops (both at the NFB offices and the travelling workshop program). Students and teachers would continue to visit the NFB and learn from their Education Specialists in a hands-on, engaging environment. Education Specialists would still travel across Canada to bring these incredible experiences to a much wider audience. 33,000 Students per year benefitted from these workshops, and as of the end of June, they will be no more. We are calling on the NFB to reconsider this decision and to re-invest in teaching Canadians to love Canadian media.
Top Five Reasons Why The NFB Should Reinstate the In Person Workshops
Passion is personal and contagious.
An online experience might supplement or enhance learning, but can NOT replace the live experience. Personal experiences with passionate Education Specialists are transformational. Students and teachers learn by doing and by having the in-person guidance of these inspiring educators.
Media Literacy is an ESSENTIAL skill.
The NFB's education workshops and outreach not only allowed students to think critically about its uniquely Canadian content, but it also gave them opportunities for media production in a supportive and welcoming environment. Education Specialists helped develop these essential production skills.
Live workshops grow an audience.
The NFB's Education Specialists are ambassadors for Canada's rich animated films and documentaries, creating excitement and appreciation that will encourage students to become lifetime consumers. Accessibility means more than on-demand access – it means creating that demand in the first place – these workshops created the demand for teachers and students.
Education Specialists provide authentic opportunities for audience feedback.
Students are the future NFB audience. Their personal responses to their NFB experiences provide valuable indicators for NFB's future directions. Education Specialists adapted to the authentic needs of students and teachers because they worked face-to-face with them in all of our provinces. Quality feedback cannot be obtained from online surveys.
Treasures must be shared.
The NFB has always celebrated Canadian culture and incites an appreciation of Canadian-ness. But its audience declined until it took its content TO its audience through its innovative pods and workshops. Eliminating these will severely limit audience awareness and interaction, forcing NFB content back into the shadows.
Please sign our petition to reinstate the Education Specialists and maintain a live connection with Canadian students and teachers!