Facilitating Civil Discourse: How might teachers develop a pedagogy of empathy for discussion of contentious topics?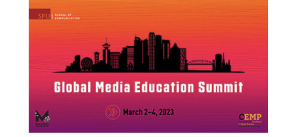 Media Education Summit, Vancouver March 2-4 2023
Neil Andersen and Carol Arcus presented ideas regarding pedagogies of empathy, and how these might help us understand "the fraught classroom".*
Here is an abstract of those ideas:
This was a discussion about the classroom as a site of struggle as well as a medium for agency and action. Each of us—along with our uses of media literacy—comprise the sites of struggle where ecomedia literacy succeeds or fails. Our fears and biases often mitigate against the critical thinking needed to learn ecomedia literacy. The fragility of our identities must be acknowledged and accepted before we can openly explore challenging ideas. Media literacy learners must understand that—as audiences negotiate meanings—they struggle with balancing critical thinking and personal/identity alliances. Digital media have simultaneous Integration and Dis-integration effects. Disintegration precipitates isolation, alienation, and biases. The classroom might be the balancing site for ecomedia literate thinking.
Media literacy education offers a safe space for critical thinking about classroom ecosystems (metacognition) as well as about media environments as ecosystems. But it must be managed delicately because many learners are deeply invested in media environments whose technologies and narratives have largely invisible influences on their identity & values. Teachers need a tool kit of strategies and the presence of mind to apply them effectively. They need pedagogies that will help students grow agency via the long view of civil discourse (tolerance, understanding and empathy). Epistemological awareness can be an integral tool to facilitate discussion, lower tensions and facilitate ecomedia literacy. Epistemological and processing skills can lead to healthy and participatory learning environments.
*(Note to the MES attendees of this presentation: if you would like to review selected slide material, you may contact us at associationformedialiteracy@gmail.com)
*We are indebted to Michelle Solomon for her thoughtful work and influence on ideas presented at MES2023.
Here are some resources that supported this presentation:
The ideas in this work apply equally to the Kindergarten, Primary, Junior, Intermediate, and Secondary classrooms. – ed.