Grandparenting and Media
Children discover media early, about the time they become aware of colours and motion. When they start to explore with their hands, they thrill to the sounds and colours they can evoke from electronic tables, toys, cribs, screens, etc. They learn early-on the relationship between their hands and the mediated world. For them a squealing squeeze toy or a chiming button is the same cause-and-effect interaction.
Grandparents can support these discoveries by gifting children with a wide variety of electronic devices. They might also provide some balance to the electronic environment by gifting them with books, lego, paints, markers and other manipulative interactive experiences that do not involve electricity.
Professor Sonia Livingstone, at the London School of Economics, has been researching and thinking about children and devices for a long time. In her useful blogs, she suggests many excellent strategies, among them consuming media WITH children rather than using devices as expensive babysitters. That way, the media experiences can support what grandparents want: shared pleasures with their grandchildren.

rauchfoundation.org
As children age, they will use devices more and more. Time with their grandparents will include time with devices. This is difficult for grandparents, who did not grow up with full-time easy access to hand-held screens—although they did have easy access to TV screens. Insisting that time with grandchildren be screenless may discourage them from wanting to spend time with their grandparents; not at all what we want. What grandparents CAN do, however, is plan fun and interactive activities that minimize or integrate screens.
Among these are trips to museums, aquariums, zoos, farms, restaurants, swimming pools, concerts and escape rooms.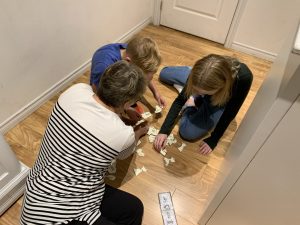 Stay-at-home screen-free activities include cooking, baking, crafting, board and card games. Grandparents can help children design and produce customized greeting cards or evites for upcoming occasions, signs and seating labels.
Screens can be integrated with these activities if children use them to design or document the activities. The pleasures and learning from a trip picking apples in fall can be extended if they are recorded, edited and narrated after the fact (Our Trip to the Apple Farm). Grandparents and grandchildren can each narrate their favourite memories from the shared experience and the recording can become part of the family's history, as photo albums did 100 and Super-8 movies did 50 years ago.
YouTube
Devices and apps can also become a subject of conversation. Asking grandchildren what they are doing on their devices and if they could show grandma/grandpa how it is done opens up a new opportunity for discussion and shared experience. Just as grandparents might attend sports events to support grandchildren, they can be brought up-to-date on ongoing video creations or gaming achievements. They can watch their grandchildren's art or video projects, musical recordings and cheer them on to succeeding stages in the projects.
Rather than losing the battle to screens, imaginative grandparents can find ways to co-exist and benefit.