National Association of Media Literacy Educators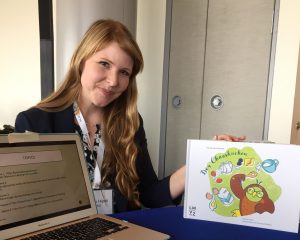 The NAMLE Conference was held in Washington DC,  June 26 – 28, 2019. The conference provided a rich collection of ideas and resources. Below are some highlights of my experiences.
-by Neil Andersen
Research Symposium (pre-conference morning sessions).
Teaching About Genocide Through A Media Literacy Frame  •  Jad Melki
Dr. Melki described a ML exercise held during the Salzburg Institute that he runs with Paul Mihailidis (@pmihailidis).
They first showed students Night and Fog (1956) to give them background into The Holocaust. The movie includes documentary footage of emaciated survivors being liberated as well as the bodies of those who did not survive but had not yet been disposed. It is a gruesome but irrefutable experience.
Because the instructors wanted the discussion to focus on media and genocide rather than blame, the students were given discussion ground rules: personal responses; no judging others.
Subsequently, the group visited a nearby concentration camp/museum.
They studied the roots of conflict and war.
I hope that they also considered the differences between the experiences of the movie cf. the live visit.
Refugees creating documentaries in Greece using visual ethnography •  Evanna Ratner

Dr. Ratner described a research that helped refugees make documentaries of their life journeys in Greek refugee camps.
The intention was to use media literacy to promote peace education.
Refugees are using videos to tell their stories and create their new identities.
Her research focused on how they tell their stories/represent themselves.
The research has great potential for students new to Canada because they might use media production to help them identify and evolve their Canadian identities.
Eco Media Literacy • Antonio Lopez
Dr. Lopez has written a book: Greening Media Education
. He is very concerned that media literacy education is disserving ecology.
He is studying production-pollution: the pollution created in producing smart phones, etc.
He is  also studying electromagnetic pollution and climate change effects.
He believes that media literacy supports anti-environmentalism because it celebrates technology too much.
Eco media comes from and is part of the environmental movement.
He wants to change the media study focus from anthropocentric to animal centric/consequences.
His recommended inquiry: What is the mental model that drives the system?
He showed a Fairphone, which is more eco-friendly because it's made with modular parts that can be replaced by their owners, whereas iPhone repairs are very limited.
Criminal minds and Looney Tunes: portrayals of mental illness and therapy on television
Cindy Scheibe (Project Looksharp) talked about images of mental illness in media, predominantly on television.
In TV stories, mental illness is pervasive, trivialized, and/or demonized. Characters either make fun of or consider people with mental illness dangerous.
'Mental illness' becomes derogatory language with multiple euphemisms.
Perhaps most alarmingly, anxiety and depression—the most common mental illnesses—are not represented on television.
Most people suffering mental illness on TV are White middle-aged males.
People with eating disorders are usually women.
Treatment is rarely represented. When it is, it is radical/distasteful/scary; except for Dr. Phil, who is not a true therapist.
The sad result of these misrepresentations is that many people are afraid to admit to needing care and are afraid to seek care.
Also, 'normal' people learn inappropriate attitudes and behaviours toward those with mental health issues.
Pushing against online hate: MediaSmarts • Kara Brisson-Boivin
MediaSmarts uses the term 'casual prejudice' in its research, which is prejudice against a group but not targeted at one person.
Hateful views are normalized and are used to create affinities.
Radicals use hateful names to desensitize youth.
Only 10% of youth push back against online hate.
One reason is that it is hard for them to assess/evaluate and know the intent of the hateful comments.
They are also afraid that their actions might make abuse worse, possibly by drawing attention to negative posts.
Their strategies are to disengage and talk to their parents, which is unfortunate because they are not taking agency against the hateful messages.
Youth will engage if there is a precedent, meaning one person who starts to push back.
They want easier reporting tools.
They want to see action taken by the platforms and they need examples of actions taken.
They complain that they see adults commit online hate too. But, they ask, "What are the sanctions? What is the role modeling?"
They need models for how people can discuss hate respectfully on platforms.
Media Literacy Pedagogical Practices With Children: Engagement, Learning And Home-School Community Knowledge Exchange
 • Vitor Tomé
Dr. Tomé is using media literacy production to promote digital citizenship in Portugal.
The research team decided to use a school newspaper as its platform because the poor community they researched didn't have access to computers.
Key questions: What does it mean to be a digital citizen?
What is the most interesting news for you?
Their research revealed that many children were anxious about what they saw in the news but their parents didn't know how to help them.
The researchers provided workshops for parents on how to discuss the TV news with their children.
In another research exercise, they asked children, "What is the school of your dreams? Design it."
This invitational task allowed students to reconsider education and their roles in learning.
In this part of Portugal, grades 1 – 9 schools can control 25% of students' time, so they can create/use ML education.
Critiquing advertisements with teens and their families: video literacy intervention in Jamaica • Rachel Powell
Jamaica has a serious noncontagious-disease problem, specifically obesity and diabetes.
There are two television sources: local programming and American cable television.
Researchers identified a phenomenon they call remote acculturation, meaning that Jamaicans feel as though they are American—with American values—as a result of American television and advertising influences.
Their workshops used dyads—mothers and daughters—that created some culture-jamming advertisements, which were targeted at food advertising messages.
This allowed the dyads to become nutritionally aware, culturally aware, and to push back against the advertising messages. The culture jamming empowered them to see and choose more nutritionally-healthy habits.
The United States Institute of Peace Thinktank
I was invited to join a Thinktank at The United States Institute of Peace the afternoon of the pre-conference.
There were about 20 attendees, some from the NAMLE conference roster and additional people from various governmental or non-profit agencies. There were many international people, e.g., Portugal and South Macedonia.
The The United States Institute of Peace wants to join forces with ML educators because they think that ML is an effective way to promote peace and peace education.
We talked about ML issues for 2.5 hours, then brainstormed concrete strategies that the Institute might use.
It was a good discussion and I wish the Institute every success.
Visualizing Media Literacy • Theresa Redmond
Dr. Redmond presented several classroom strategies to help sensitize students to media effects.
One was 'redacted poetry,' where students are given a page from a textbook, then redact text to create a found poem from the remaining text.
In another, they play Telestrations to become more aware of visual and verbal codes and conventions.
On The Air: Elementary Student Adventures In Podcasting And Radio Broadcasting • Diana Maliszewski

AML Director Diana Maliszewski (@MzMollyTL) presented a classroom demonstration of her recent radio station tours and student podcasting experiences. She invited participants to use a variety of classroom experiences to understand best practices in elementary media literacy education. It was great modeling and illustrated how media literacy can be learned at the elementary level.
What Does The Internet Know About You? • Julie Nilsson Smith

Julie Smith (@julnilsmith) discussed many ways that users willingly (and sometimes perilously) share their personal data with the platforms they visit. She opened many eyes to the kinds of data we share and that accumulate in social media and beyond.
Panel: Media Literacy And The Tech Industry: Exploring Collaborative Ways To Navigate Rapid Technological Growth
Representatives from Facebook, Twitter (Google was booked but did not attend).
There was a free-ranging discussion where the industry reps were put on the defense and pledged to support ML education. Time will tell if their commitments were sincere or just good PR.
Panel: Trust, Journalism, And Media Literacy
A group of veteran journalists discussed their frustrations with the ways that journalism and the news-delivery model have evolved in the internet age. They provided more descriptions of the problem than viable solutions.
The Future Of Media Literacy Requires Starting Early: "Ulla" The Little Owl In Kindergarten
 • Eveline Hipeli

Eveline Hipeli, a lecturer at a Swiss faculty of education, has produced 5 books in which Ulla, an owl, helps children understand and respond safely to several child-centred media literacy issue. The books follow a format wherein children face a media-infused dilemma and Ulla—as an animal familiar in the Jungian tradition—helps them resolve their anxieties. Dr. Hipeli's media lit approach is a great fit with the AML approach, and it would be great if her books were translated for use in Ontario schools and homes.

Media Literacy Across The Pacific: What's Happening In Australia • Amy Nelson

Amy Nelson, of the Australian Broadcasting Corporation, presented a great and large collection of media literacy resources for Australian teachers. These are downloadable and quick strategies. She said that out-of-Australia teachers would also have access to the resources. I don't know why the ABC has decided to support media literacy education, but it would be great if the CBC did so as well with Canadian-appropriate resources.
It was a week's worth of excitement packed into 3 days.