IMLRS 2022 Experience
Late June seems to be a popular time for conferences. For many districts, students are finished for the year (just not for elementary schools in our district) and members of the target audience are technically available to attend.
ISTE was in New Orleans – but I wasn't there.
ALA was in Washington D.C. – but I wasn't there.
No offense to either of these conferences, but this year I'm glad I wasn't in attendance, especially now that I'm seeing lots of posts on social media from participants with positive COVID results. Instead, I was at a smaller event, closer to home, and able to celebrate the last day of school together with my students.
I attended the International Media Literacy Research Symposium in Madison, Wisconsin. This blog post is a summary of my experiences and learning.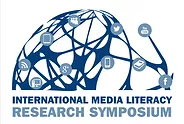 Sunday, June 26, 2022
Milwaukee, WI
Neil Andersen, president of AML, and I arrived in Milwaukee and were picked up by Karen Ambrose, the executive director of IC4ML (International Council for Media Literacy, formerly known as the National Telemedia Council). Karen was a gracious and generous "chauffeur", ensuring we were fed before making the trek to Madison. Neil reminded me about the interstitial nature and value of in-person conferences; (interstitial means "of, forming, or occupying interstices.") "moments between the moments" that mean a lot. The van ride to the site was just such an example. After settling into our dorm rooms at the University of Wisconsin, some of the attendees were treated to a boat tour of Madison. When our tour ended, we hurried to the WU "Rathskeller" student union run restaurant for fried cheese curds, bratwurst and local ale (as well as ice cream produced from the milk of the university cows!)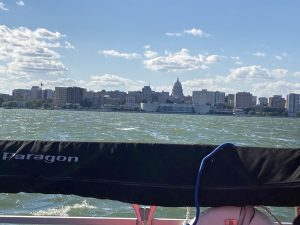 (Photo of Madison, WI skyline taken by D. Maliszewski)
Monday, June 27, 2022
Madison, WI
Neil and I took a self-guided tour of the state building early Monday morning. We found so many intriguing and fascinating examples of media that we were half-tempted to create some lesson plans! Messages are conveyed in a media environment and many were communicated via the choice of floor, art, and signage.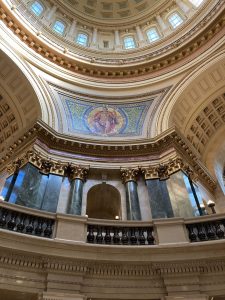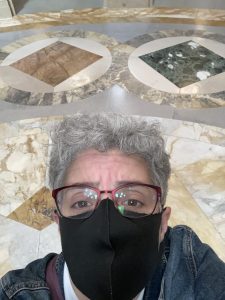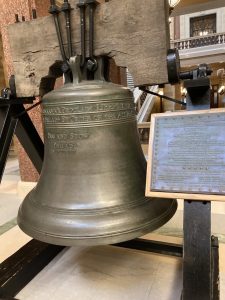 Photos by Diana Maliszewski
We briefly helped the organizing team pack conference bags and after lunch it was time for the University of Wisconsin – Madison First National Cultural Landscape Tour, lead by Aaron Bird Bear, the Director of Tribal Relations with the Office of University Relations. I learned a lot from this tour. You can also visit https://wisconsinfirstnations.org/ for more information. Some of the notes I took included information such as:
notions of property differ between Indigenous people (kinship) and settlers (commodity)
in colonization, the goal is replacement – assimilation and termination (and within assimilation, the role for Indigenous people would be nothing higher than the labor underclass)
there are three different "types" of tours that the university offers: the "special" (for visitors and general public that focuses on the positive aspects), the "mindful" (as orientation for those entering the university that guides their on-campus actions) and the "critical" (for those who are involved with the university, the "warts and all" version showing there is so much  more work to be done)
the university has a history of much "play-acting" and cultural appropriation of Indigenous ceremonies and symbols (even the lakes are made-up names to sound "Indian" despite having actual Ho-Chunk names)
sometimes monuments aren't even for the place or people there but serve to focus on successful colonization (e.g. several plaques refer to Blackhawk, which is from another state); Mount Rushmore is the worst kind of insult to Native Americans as it highlights the four presidents who were particularly horrible to Native Americans (and as I read earlier, was carved on sacred land)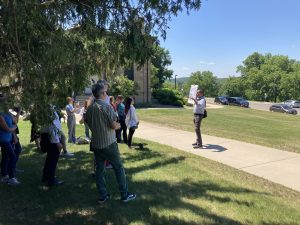 I asked Aaron how could it be possible to honor the oral tradition in higher education. I myself felt a bit guilty for having to rely on notes to remember what he was describing. He replied that it was hard because academia loves the "peer review" concept. He also made a fantastic point about story telling. Not only is it important about WHO tells a story, it matters WHEN the story is told. He elaborated and said that the Ho-Chunk nation only tells their stories when the snow is on the ground. If these stories are digitized, there is the chance that they could be played at any time of year, instead of the proper time. These things matter.
I suspect that several people found it hard to listen and accept what Aaron Bird Bear was saying. Aaron himself is Mandan, Hidatsa and Dine' (although settlers might be more acquainted with the titles Sioux and Navajo) and he is not shy about saying he is different from those on the tour, nor is he hesitant about making statements based on fact that might contradict people's opinions of the country (e.g. it is founded on cruelty and greed).
Monday, June 27, 2022
5:30 p.m.
Marieli Rowe Award Ceremony
Summary: There were four winners of the inaugural Marieli Rowe Award. The recipients came from Belgium, Italy/USA, Finland/Sweden, and the Philippines. You can read about their projects here.
Monday, June 27, 2022
6:00 p.m.
Opening Keynote – Henry Jenkins
Summary:
Henry was unable to be with us, as he was unwell, but he joined us remotely via Zoom. His talk was called "What We Put Into Their Lives Is Far More Important Than What We Take Out": Josette Frank, the Child Study Association, and Media Literacy.
3 Key Points: 
There are many other people who deserve recognition beyond Dr. Benjamin Spock, such as Josette Frank and Sidonie Matsner Gruenberg.
Some things still remain the same, such as showing interest in your children's media texts.
Terms are interesting. Progressive parenting? Permissive parenting?
Visual / Social Media Artifacts: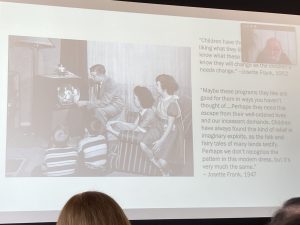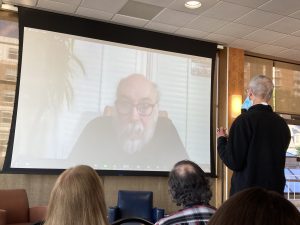 Photos (including rest of photos in this post) by Diana Maliszewski
Tuesday, June 28, 2022
8:45 a.m.
Jessie McCanse Award Ceremony
Opening Remarks – Belinha DeAbreu
Summary:
The winner of the 2022 Jessie McCanse Award was Renee Cherow-O'Leary. Belinha created a powerful video compilation that encapsulated many of the events of 2022-22.
Visual / Social Media Artifacts:
Tuesday, June 28, 2022
9:30 a.m. (Session 1)
Media Literacy Practical Classroom Teaching Strategies – Neil Andersen & Diana Maliszewski
Summary: (taken from conference program)
Presenting several K – 12 practical classroom Media Literacy teaching strategies, including:  Using End User License Agreements to help students understand and appreciate their roles,  responsibilities and risks on online environments; Probing algorithms, search and auto correct etc. to understand and appreciate how they impact our online communications;  and Integration of media literacy education into the data analysis, data visualization, data  collection/organization and data literacy portions of the math curriculum.
3 Key Points:
Media literacy education can be for the youngest learners and beyond (with samples from 4-year-olds).
Playing with algorithms (via spelling errors, auto-complete, and search results) can help us understand how they work.
Math, French, and Health are all subjects that can integrate well with media literacy (and examples were given)
So What? Now What?
This was my/our presentation, so I am biased about the results. I counted and there were 22 people in our room, which was a good turnout. I am glad that we brought he AML EULAs with us and mounted them in the room, because the posters continued to "speak" for us even when it wasn't our turn.
Visual / Social Media Artifacts: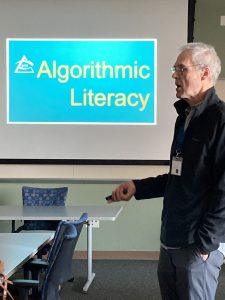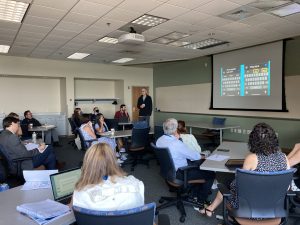 Tuesday, June 28, 2022
10:00 a.m. (Session 1)
Foundations for the Future: Preparing Students to Examine Biases and Engage in Civil Discourse – Melissa Mallon & Megan Mallon
Summary: (taken from conference program)
Encouraging students to think critically regarding what they see, share, and promote is a  crucial task for educators at all levels and disciplines. Students must be provided with  the awareness and skills they need to address these issues firsthand and discuss issues of  misinformation and disinformation in a civil and productive manner. The presenters will  discuss the importance of promoting examination of self-biases and the role of civil discourse  in preparing students to become media-literate practitioners and discuss the importance of  equipping students with these skills at an early age; examining context within K12 education  and how this transfers to higher education. Our presentation will also share strategies to  engage students in exercises designed to identify and examine biases, and share a framework  for conflict resolution that prepares students to approach difficult conversations in a way that  promotes civil discourse and encourages conversants to also begin to interrogate biases.
3 Key Points:
Classroom strategies include starting with an open mind/understanding of biases, and to look critically at multiple sources.
To navigate difficult discussions, build peace within and between.
So What? Now What?
Melissa and Megan were interesting presenters, not just because they were identical twins, but because they operated in public schools with Grade 5 kids and at the university level. I'm glad I grabbed a screen shot of their contact information, because I didn't see them at the conference after this session.
Visual / Social Media Artifacts: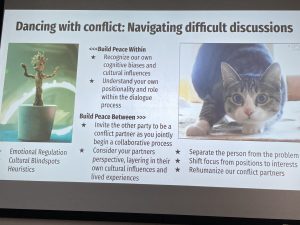 Tuesday, June 28, 2022
10:30 a.m. (Session 1)
Teen Informal Information Behavior – Kerry Townsend
Summary: (taken from conference program)
Media tools are evolving as are the ways teens are using them. Preliminary findings of a study  aimed to understand how teens are utilizing digital tools for everyday life information seeking  will be shared. This study intends to explore the informal information behavior of teens.  Specifically, information behavior is explored alongside the mass communication theory of  Media Uses and Gratifications in order to study how teens answer the questions of everyday life.  Communication and information behavior studies traditionally focus on specific media formats  or specific digital tools. However, as media formats evolve, so too should how we study media.  The following research questions will guide this work: How do teens gather information from  digital media to answer the questions of everyday life? What sources of digital media do they  use? How do teens find the digital media sources they use? What motivates teens to use specific  digital media sources and in what formats? What do teens do with the information they find?
3 Key Points:
1. The plan is to conduct 30 interviews but Townsend realizes that might be a lot, as the interviewees love to talk!
As the Library Coordinator for her district, she hopes to be able to bring this information back to her school librarians
So What? Now What?
Seeing Kerry made me think about our own Program Coordinator of Library, Andrea Sykes, and how hard she works to spread ideas and good pedagogy.
Tuesday, June 28, 2022
11:00 a.m. (Session 2)
New Directions: McLuhan and Beyond … – Carolyn Wilson, Paolo Granata, Neil Andersen & Diana Maliszewski
Summary: (taken from conference program)
This session will explore the influence of Marshall McLuhan and others on media literacy  in academia and public education, as they apply to the current realities of our digital world.  Algorithms, surveillance structures and social media have created an "environment" of which  we are an essential part, and where we have become the content. What are the media literacy  concerns and pedagogies that do, or should, inform our practice?
3 Key Points:
Ideas such as figure/ground, acoustic space, and through/about media are still just as timely and relevant as when McLuhan first suggested them.
The McLuhan Foundation is busy with projects such as the Global Village Square (an online community hub), supporting the Global Media Educations Summit, and a site on the Toronto waterfront.
So What? Now What?
One concrete next step I will take is to join the McLuhan Foundation's Global Village Square community. I will also need to start working on my proposal for the MES in 2023. It was tricky to balance a panel with some members online and some in-person, but it worked.
Visual / Social Media Artifacts: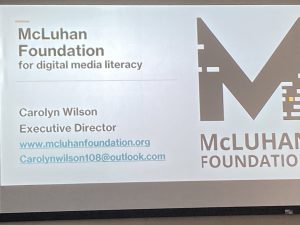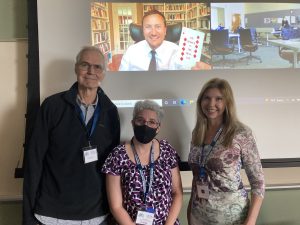 Tuesday, June 28, 2022
1:15 p.m. (Session 3)
Media Nationalism, Credibility, and Claims of Representation: Media Literacy Challenges in India – Shashidhar Nanjundaiah
Summary: (taken from conference program)
Media literacy has been seen as a solution to problems, especially those of misinformation  and fake news. The concept of misinformation makes presumptions about the pervasiveness  of media illiteracy, about availability of truth, and about representations. Media literacy  practitioners' efforts may be blindsided notions of truths and media illiteracy that can suppress  individuals' efforts to defend and consolidate beliefs. Available media texts are governed by factors such as official sources, belief-solidarity, and bias. Further, in claiming to represent  their audiences, media parse stories through structures that include production processes,  agendas set by official sources, and ideological positions. This analysis problematizes these  factors in an Indian news television context, using examples to examine how media literacy  efforts may inform or obfuscate. The presentation also examines the role of a government in  media literacy efforts.
3 Key Points:
Media education in India is often taken care of by corporations, which is a problem.
Polarizing incidents occur, such as the case of a traffic death of protesters by the convoy with a Minister's son; originally the story was portrayed as "vicious protesters"
So What? Now What?
It was interesting to see what's happening in other countries.
Tuesday, June 28, 2022
1:45 p.m. (Session 3)
Media and Information Literacy as High Societal Priority in Kosovo – Remzie Shahini Hoxhaj
Summary: (taken from conference program)
This paper aims to study how in the youngest democracy in Europe, Kosovo, the universities  and civil society are committed to change the approach of teaching media and information  literacy. As many other countries in Europe, Kosovo has become a battlefield of mal information, misinformation and manipulation, spread by media, domestic political actors,  but also by anti-European external regional powers. This research will show what skills  students, teachers, and general public need in order to build media and information literacy,  based in field research done during Pandemic on online teaching/ learning process as well  as field work that focuses in teaching skills. Journalism Department of Prishtina University  in cooperation with Kosovo's Teachers Association has trained around 3000 teachers in  importance of teaching skills and how to integrate media literacy skills into the curriculum  for primary and secondary education. In Kosovo, formal education is heavily content-based  where students deal with a lot of information, and learn no critical thinking nor how to use,  analyze, evaluate or deconstruct information they perceive. This paper tries to find ways to  see how media and information literacy will be integrated into school curriculum.
3 Key Points:
Kosovo is a complicated place that many people do not know about; it is the last unit that emerged from the former Yugoslavia, survived Serbian aggression and information blackouts, and now has many more online sources of information and wifi networking than many other places in Europe
95% of the study's respondents have a smartphone but only 16% say they need it for learning
92% of those surveyed said Media should be a mandatory course in Kosovo schools
So What? Now What?
I exchanged contact information with Remzie, who approached me later on because she said I looked very focused and was the most concentrated during her presentation. I will try to reach out to thank her for her informative talk.
Visual / Social Media Artifacts: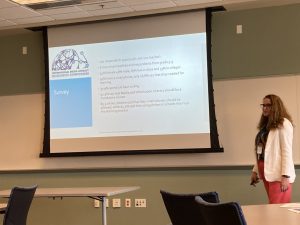 Tuesday, June 28, 2022
2:15 p.m. (Session 3)
The way to prevent COVID-19 infection: an analysis of messages and local media literacy, from the US and Bulgaria – Barbara Ruth Burke
Summary: (taken from conference program)
This study focuses on online discourse related to COVID-19 local rule implementation, and  in particular discussions about rule following: examining cultural beliefs and values as they  relate to the establishment and continual negotiations about who, how, when, and why given  individuals and groups create and maintain their status as opinion-leaders or information  gatekeepers, and how they utilize available means for providing feedback and comments to  others, in two contrasted language communities–the United States and Bulgaria. The people  in both countries have deeply politicized views about COVID-19 warnings, masking, and  vaccines. Our comparative analysis of mediated communication and media literacies offers  a framework for understanding the local environment which makes given norms culturally  intelligible, and suggests ways in which the flow of information/ disinformation happens.
3 Key Points:
It was challenging to get translations for Bulgarian because often any Cyrillic translations default to Russian.
Studying the micro (e.g. comments to a news article on a Bulgarian morning show or comments in a local Facebook group page) helps to understand situations.
Tuesday, June 28, 2022
2:45 p.m. (Session 4)
It was at this time that I got a notification on my phone that the second leg of my return trip to Toronto had been cancelled. This was not good news. I found Neil and told him. We then began the arduous task of trying to find new ways to get home.
Guardian angels come in different packages. Ours came in the form of Rebekah Willet, the Vice President of IC4ML and one of the main conference organizers. She saw us frantically searching for contact information online and gave up her own time listening to excellent speakers to help us try and make new arrangements. At one point, there were three cell phones and two laptops all commandeered for this purpose. We couldn't reach Air Canada by phone or text to cancel the rest of the flight. We tried booking a flight with United but every time I completed filling out the information, it'd set me straight to the beginning (with a higher price for the tickets, I might add – two one-way tickets went from about $700 to over $1200 in an hour of attempts – algorithms in action). In the end, we were able, thanks to Rebekah's laptop and searching, to book a new reservation from Madison WI to NYC and then from NYC (LaGuardia) to Toronto on Wednesday. It meant being unable to attend the Barry's Wander in Milwaukee planned for Wednesday, but we had little choice.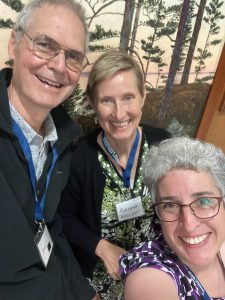 Apologies to Dan Choe (Game Based Learning: Helping Students Build Media Literacy Muscle Memory) and Paolo Granata / Abus Abdelgabi (Play Media Literacy Games: From Lamboozled!, The Medium, and More) for missing their session. It was disappointing for me to lose this precious time while in Madison, but thankfully I got a chance to speak with Dan at dinner that night at Nitty Gritty, a local restaurant.
Tuesday, June 28, 2022
4:15 p.m. (Session 5)
It took this long for the three of us (Rebekah, Neil and I) to find a satisfactory alternative. This meant I also missed three other presentations I planned on hearing: a) Digital Media Use of Children growing up in Foster Care Networks – Action Research, by Borbala Timar from Hungary, b) Advancing Media Educational Competencies: Development of a Pedagogical Concept for Initial Teacher Education, by Jannie Hahn & Silke Grafe from Germany, c) Crossing STEAM and Media Literacy at Preschool and Primary School Levels: Teacher Training, Workshop Planning, its Implementation, Monitorization, and Assessment, by Vitor Tome & Belinha DeAbreu from Portugal/USA. I will need to see if I can access any of the presentations for future viewing.
Tuesday, June 28, 2022
5:30 p.m.
Closing Ceremonies
The 5th IMLRS event will be in the Azores in 2024. I texted my sister and she's keen to go. Now it's a matter of figuring out the logistics and if it is even possible!
The wonderful thing about the size of this conference was the ability to have conversations and connect with many people. People that I had the pleasure of interacting with included, but was not limited to:
Carolyn Wilson (with UNESCO)
Tessa Jolls (from Center for Media Literacy)
Megan Fromm (from NAMLE)
Michelle Ciccone (doing her PhD right now)
Belinha DeAbreu (IC4ML / IMLRS)
Sean Gabaree (MD high school teacher)
I'm sure I am forgetting many more names. I hope Neil will help me fill in the gaps, as he knows so many people around the world related to media literacy.
The evening was filled with socialization at dinner (including interactions with more people, such as Amanda Latasha Armstrong, Dan Choe, Jeff Share, Yonty Friesem, and Geraldine Wuyckens). A small group of us (Michelle, Yonty, Neil, Dan and I) wandered back into a wonderful game store in downtown Madison called Gamers Library to chat with Andrew, the owner, and visit his beautiful big dog.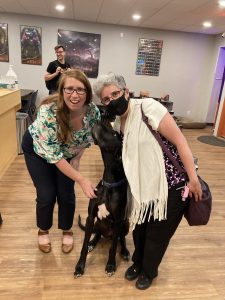 Wednesday, June 29, 2022
Delta Airlines saved our bacon. We flew from Madison to LaGuardia. Fortune smiled upon us, because we landed and our gate to board for our flight to Toronto was only three spots away and we had just enough time to go to the bathroom before they started to load the second plane. We made it back to Toronto between 3:30 – 4:00 p.m.
Big thanks to my traveling companion, Neil Andersen, for all the guidance and support. Thank you AML for the financial assistance related to this trip. I hope it will continue to pay dividends in the future.
*This blog post first appeared under the title "IMLRS In Madison" (International Media Literacy Research Symposium) on the Monday Molly Musings blog. It has been adapted by the original author, Diana Maliszewski, for use on the AML site.