Media Literacy Week 2020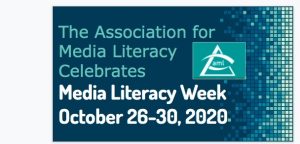 A perspective by Sarah Bayne, an Ontario elementary educator and board member with the AML.
October was a stressful month for many of us. Between students, teachers, and families navigating the ups and downs of back to school, a global pandemic, and a nerve-wracking lead-up to a divisive election in the United States, distractions were definitely welcomed! For us here at the AML, that came in the form of Media Literacy Week- our favourite time of year. Spanning the last week of October, the AML and many other Media Literacy organizations worldwide took to various media formats to do what we do best- talk about media literacy! 
Our weekly podcast called Mediacy, hosted by the AML's very own Carol Arcus and Neil Andersen, aired as usual on the Monday of Media Literacy Week. This part 2 episode featured a discussion with AML members and media literacy educators Diana Maliszewski, June Lee, and Chelsea Attwell about "elementary teacher virtual malaise and challenges". I'm sure many readers will instantly relate to what these educators have to say. Listen to our podcast anytime on your favourite podcast app, or tune in live on VoicEd Radio at 8PM EST every Monday as Neil and Carol discuss current events through a media literacy lens. 
Media Literacy Week also provided us with an opportunity to launch our first ever Instagram campaign. We committed to posting every day of Media Literacy Week from our @AssociationForMediaLiteracy account. Every day we highlighted a different resource we offer to media literacy educators. On day one, we went back to basics. We featured our student-friendly definition of media, created by our own Diana. Check out the activity that she did with her students here. On the second day, we highlighted our unique EULA posters. On Wednesday, we shared information about the Mediacy Podcast. On the fourth day, Thursday, we explored our essential frameworks, including our Anti-Bias Anti-Racism Media Triangle. On the final day, we decided to showcase a few of our favourite resources and lesson plans for elementary and secondary educators. 
Overall, Media Literacy Week 2020 was a huge success. We achieved what we were hoping: to engage in meaningful dialogue about our greatest passion- media literacy education!