Using Memes in the Classroom: Prompts and Considerations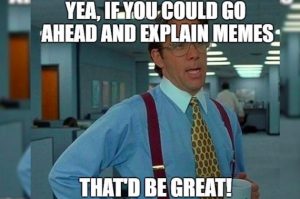 By Diana Maliszewski – Note: a version of this blog post initially appeared December 7, 2015 on https://mondaymollymusings.blogspot.com/2015/12/memes-from-twitter-inspiration-to.html
Memes are fascinating media texts, accessible for many and used frequently. Several definitions exist.
According to Neil Andersen, president of the Association of Media Literacy,
"A meme (meem) is a unit of cultural ideas, symbol, or practices, which can be transmitted from one mind to another. Memes are cultural versions of genes, in that they reproduce (e.g. go viral) and respond to selective pressures. Examples of memes include melodies, catch phrases, fashion, and the technology of building arches"
Consider how that explanation differs from the definition used by the "adult party game for meme-lovers" called "What Do You Meme?":
"a humorous image, video, piece of text, etc. that is copied (often with slight variations) and spread rapidly by Internet users"
Defining a meme would probably be a good start for anyone who wishes to include them in their teaching repertoire.
. @sandypittelli @ZeliaMCT @jsm2272 This post is perfect timing! Partnering with a Grade 5/6 teacher & she wants to incorporate memes. Thx!

— Diana Maliszewski (@MzMollyTL) October 6, 2015
If educators would like to include the use of memes in their lessons, for any sort of curriculum connection (a few of which will be listed at the end of this article), they should be mindful of including a discussion about ethics and digital citizenship. Where do these images originate? Who profits from the use of these images? Who suffers? What permissions for using and distributing these images exist?
@MzMollyTL @sandypittelli @ZeliaMCT You might want to consider this angle too #digcit http://t.co/nZeQFBWtpR

— Julie Millan (@jsm2272) October 6, 2015
Memes can be created digitally or through print. Meme generators exist, but a caveat: many online meme generators are not geared to school-age audiences due to inappropriate images and themes. Search and explore for various meme generators, or create your own using any of a number of image / graphics manipulative software (from Adobe Photoshop to Google Apps for Education to the Microsoft Suite and beyond).
When I worked with a Grade 5-6 class on this meme-focused project, I (the teacher-librarian) used imgflip.com/memegenerator.  As the teacher and I planned the unit and explored using memes for social studies and social justice, we agreed that using just a meme would be insufficient to share all they learned as part of their research project. The final task was tweaked so that students would create a brochure and a meme for the NGO charity of their choice. The students were very excited to make memes. They thought it'd be easy. What they soon learned is that comedy is complicated. Making something funny with an important message as well wasn't easy. Finding the right image and using the right combination of just a few words was more challenging than they originally thought.
Even mis-steps and misunderstandings as students explored and then created memes led to great conversation starters. For example,  one ELL (English Language Learner) student had selected a photo of a person with a developmental delay wearing a Superman suit and a goofy facial expression as the image for her meme. She did not understand that the visual was intended to mock the man rather than make him appear heroic. The classroom teacher grabbed the teaching moment and explained why this photo was disrespectful and helped the student select a better shot.
This is a photo of some of the final projects by the Grade 5-6 students.
Here are a few photos of some back-to-school memes designed by beginning teachers at the 2018 TDSB Beginning Teacher Summer Institute during a workshop called "Making Media Literacy Fun and Relevant". These memes were made with cards from the game What Do You Meme and Post-It notes.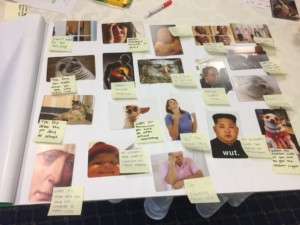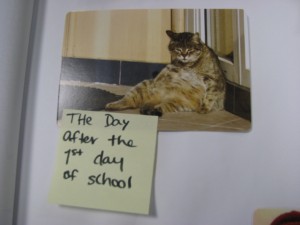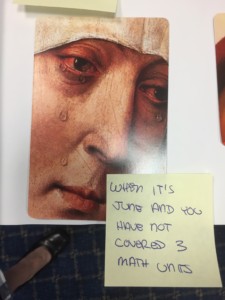 What other ways can you use memes?
share back to school memes (what messages about school are communicated?)
design memes to reinforce class / library rules (how does humour help?)
use as examples of texts for inferring
examine the "cultural literacy" needed to understand specific memes
look at memes linked to current events (what are the social and political implications?)
create memes for any subject area (e.g. Michelle Solomon mentions the use of the "casually pepper spray everything cop" meme and how he can be superimposed on images of historical significance for history class)
As an adult exploring memes, you may want to examine http://knowyourmeme.com for a plethora of examples – or just peruse your social media feed.
(These ideas adapt equally to elementary and secondary classrooms – ed.)