AML Presents at the 2021 Media Education Summit!
Building Agency through Play-Based Collaborative Learning: A Primary Students' Community-Environment-as-Media Inquiry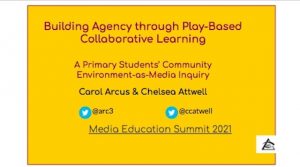 A presentation by AML's Vice President Chelsea Attwell and Carol Arcus, Director, for the 2021 international Media Education Summit, March 31 & April 1.
This presentation poses the question, "How might understanding "environment as media" inspire play, support children's agency, and create space for equity, inclusion and identity?"
This activity is scalable and can be adapted from Primary through Secondary.
For similar lessons, see Understanding Learning Environments, Scavenger Hunt, Barry's Wander 2019, Election Signs, and the Street Crawl.