Fruit sticker as medium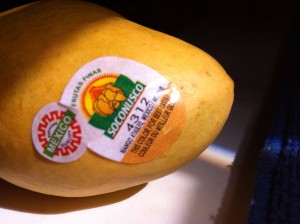 This fruit sticker displays an innovation using the language of colour.
Vegetable and fruit stickers are customarily used to ID the item # for cashiers (4312) and the origins and companies for inpectors and consumers (Mexico and Soconusco). They employ numerical, word, colour and logo languages to achieve this. The Mexico label, for example, uses the colours of Mexico's flag.
This Ataulfo Mango sticker adds another feature on its bottom third, where there is an orange band and the instruction, "This colour for best taste," in French and English. It is providing a consumer guide, telling the consumer to wait until the mango's colour matches the label's colour before eating.
So this sticker utilizes several languages and modes to communicate messages and meanings to different audiences. As such, it would be an appropriate text to study at any grade level and with novice to expert students.