NOT Beer in Convenience Stores
Ontario's brewers are going head-to-head with the convenience stores in a compelling PR campaign to control beer sales. The campaign includes websites, and now a PSA.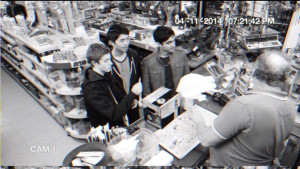 The convenience store association points to its successful monitoring of customers' ages and keeping tobacco products out of the hands of underage smokers as proof that convenience stores can responsibly monitor beer sales. The Beer Store claims that it is the only trustworthy keeper of beer.
Now The Beer Store has released a PSA to convince the public that convenience store clerks are not trustworthy when it comes to selling beer. The PSA provides a great discussion opportunity for persuasion and bias.
It depicts a group of male teens buying a 12-pack and a bottle of whiskey from a friendly convenience store clerk. There is a female voice-over explaining that this is just not right.
As well as shots of the teens cruising the store collecting their party supplies, there is a b/w surveillance camera shot of them making their purchases.
Some discussion questions might include:
Who is the target audience for this PSA? How can we tell?
Why might all the teens be male rather than female or a mix?
Why might the clerk be male rather than a female?
If this battle is over beer sales (i.e., not liquor sales), why might The Beer Store have included a bottle of hard liquor in the PSA?
If the teens are underage, wouldn't they be nervous knowing the sale is being recorded on the store's surveillance system? Wouldn't the clerk?
What PSA might the convenience store association produce in response to this one?